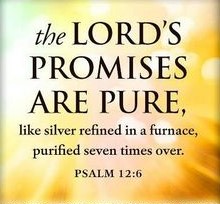 Man's Treachery and God's Constancy
*"Treachery" means betrayal of trust; disloyalty, bad faith, deceit, and deception.
*"Constancy" means the quality of being faithful and dependable.
*"The Constancy of God", is based on God's immutability.
*"The immutability of God" is defined as, God never changes in His being, in His perfections and in His purposes. In other words, God is always the same.
Verses 2-5: The oppression of the righteous by the wicked is especially felt through the vain and proud speech of the wicked.
Verses 2-4: These wicked ones verbally abuse God's people verses 2-3 and the wicked deny God verse 4.
Verse 1: "For the godly man ceases" when they engage in speech that is insincere verse 2 and arrogant verses 3-4. Verse 1 seems to describe the day in which we are living. Our society is like it was in the days of Noah before the flood.
Verse 2: "Vanity" means the wicked spoke that which is false and a lie. Does not line up with God's word. "Flattering lips" means to compliment excessively, and not be sincere or real. They profess themselves to be what they are not. They tell lies. "With a double heart" means they are double-minded. They say one thing and do another. They can not be depended on. They are playing a con-game.
Verse 3: Keep your tongue from false flattery and pride. Words from the Lord are "Truth and Morally pure". Their tongues are uncontrollable. This is why it is so important that we allow the Holy Spirit to control our tongues. By Turning your tongue over to the Holy Spirit, you will speak life and not death.
Verse 4: The wicked deny the God of Israel. "Our lips are our own" means the wicked speak what they want to. "Who is Lord over us" means they deny God.
Verse 5: God's promise of assistance is made to the righteous ones, whom the wicked oppress. "I will set him in safety for which he yearns" means God is going to take care of His righteous ones.
Verses 6: The number "7", represents full and complete. "Pure" means God's words are perfect and true.
Verse 7: God will keep the righteous ones.
Verse 8: The wicked fill places and go about boldly and securely, seeking to deceive, corrupt and destroy the righteous one's of God. But God has said He will take care of the righteous ones!!! Amen!!!