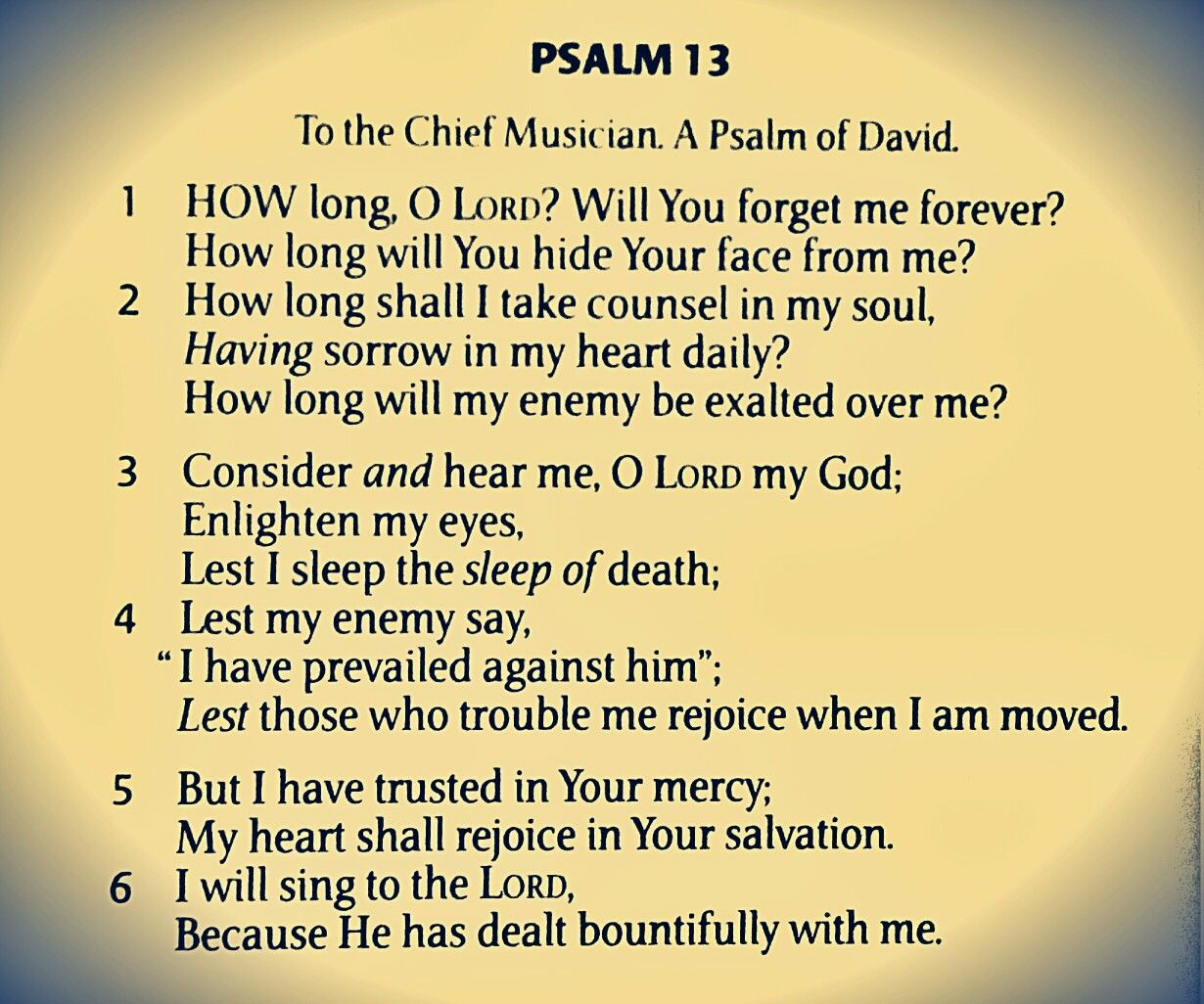 Trust in the Salvation of the Lord
*The feeling of being forgotten is expressed by David.
*There are four "How longs" in verses 1-2. Laments begin. "Lament", means a passionate expression of grief/sorrow.
*David had three levels of attitude:
Verses 1-2 Expressions of despair.

Verses 3-4 Expressions of Desire.

Verses 5-6 Expressions of delight.
Verse 1: When God does not come like David expected, he felt as though God had forsaken him. God never does, nor can He forget His righteous people.
Verse 2: David forms plan after plan, but to no purpose. David seeks to find a way of escape from his difficulties, but can not discover one. David, here is trying to do it all by his own might. This always fails. David has tried all he can do in the flesh, but nothing works. Why do we like David, at times try to do things within ourselves, knowing that it will not prevail. First of all, we need to go to God and allow Him to lead us. We need to read the instructions first and follow them. Our instructions are in the Word of God, the Bible. We need to have total faith in the instruction book, the Bible and the instructor, who is God. Even though, it may seem that the enemy is winning, the Bible tells us the enemy looses!!!
Verse 3: David ask for a hopeful perspective to be given to him, lest despair quicken his death.
Verse 4: It was to the enemies, that seemed almost to have triumphed over David already and under whose power he was ready to ready.
Verses 5-6: Psalm 13 reaches a turning point when David remembers what God had done for him.
Verse 5: David's faith, hope, and comfort grew and increased as he prayed to God. David moved from complaining to praying, and from praying to believing.
Verse 6: No matter how distressed David was in the beginning of the Psalm, David ended with a song of praise to God.
* In prayer, faith is encouraged. The sorrow we feel when we feel like that God has forgotten us, is quickly turned to joy and thanksgiving when we remember all the blessings God has given us. Pray with faith believing God hears and will answer you.