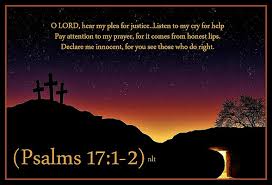 Pray with Confidence in Final Salvation
*Prayer with confidence in Final Salvation.
*Psalm 17 is one of three Psalms that bears the title "A Prayer of David".(Psalm 17, Psalm 86, Psalm 142).
*The title of Psalm 17 is appropriate, since it is rich with words for petition: "hear, attend, unto, give ear".
Verses 1-2: David's initial cry to God.
Verses 3-5: David defends his character and motives.
Verses 7-8: David offers his petition up to God.
Verses 9-12: David gives a description of his enemy.
Verses 13-14: David asks that his deliverance might be granted. It will involve the destruction of his enemies.
Verse 15: David's unhindered devotion to God.
Verse 1: "Hear a just cause" sets the mood for David's prayer. "Attended to my cry" shows that David's prayer was a fervent prayer. "Fervent" means having or displaying a passionate intensity. "Not from deceitful lips". This shows the sincerity of David's profession in his prayer.
Verse 2: "From Your presence" means to let the judgement of my enemies come from You God. David knew if he walked uprightly(righteous) before God, God would take care of his enemies.
Verse 3: David did not claim he never sinned. David was saying he knew in his heart that he was being faithful and obedient to God. So, David knew the wise thing to do was to appeal honestly to God, who is just and loving. "Tried" has reference to being put in a refiner's fire and found not to have any impurities. David has made up in his mind that every word that comes from his mouth would be pleasing to God.
Verse 4: "By the words of Your lips" refers to the law of God, which are the scriptures. God's word shows what works are good and what works are evil. "Destroyer" is satan. We ourselves must study God's word, so that we will not be deceived by the destroyer, satan.
Verse 5: David was conscience of his own weaknesses, and to keep himself in the ways of God. David asked God to direct his steps.
Verse 6: David knew God would hear him.
Verse 7: David knew that God delivers those who live righteous, from their enemies.
Verse 8: God protects His righteous people. David wanted the supernatural protection of God.
Verse 9: David is asking for God's protection from his enemies, who would like to kill him.
Verse 10-12: These verses apply powerful imagery to demonstrate what sort of people(enemy)were attacking David. David's enemies were ruthless and had no compassion.
Verse 13: David knew God would deliver him.
Verse 14: These people have not laid up any treasures in heaven. They have laid up their treasures here on earth. They have no future with God in heaven at all. They have lived for the here and now.
Verse 15: David is saying that heaven with God is worth it all. David knows that he will one day be with God in heaven.
*Are you 100% sure that you will go to be with God in heaven? If you are not 100% sure, today is the day to make sure you are ready to meet God.