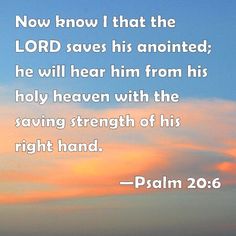 Psalm 20
Assurance of God's Saving Power
*Psalm 20 is a Psalm of intercession(prayer) by the people on behalf of King David before battle.
*Psalm 20 commemorates a three phrased ceremony regularly conducted by the people of Israel on behalf of the King:
An offering of their prayer verses 1-5

Confirmation of their confidence in God's saving power verses 6-8

Reaffirmation of their dependence on God's saving power verse 9.
Verse 1: "The day of trouble" can be a day of opportunity for the Lord to demonstrate His glorious power for those who know and worship Him. "The God of Jacob" refers to the fact that God delivered Jacob in the times of distress.
Verse 2: "From the sanctuary"..."Out of Zion" are symbolic of God's presence in the Ark of the Covenant, which David had recaptured and installed in a tabernacle on Mt. Zion. The people desired that God Himself would uphold, support and sustain Kind David and his men.
Verse 3: It appears from this verse that David gave offerings of prayer and praise, and sacrifices on the altar in the holy place, before he went out to battle. Christian's could learn a lesson this in that before we do battle with the enemy, we should take time to pray and wait for the Lord to say it's okay to proceed into battle with the enemy.
Verse 4: David took counsel from God.
Verse 5: "Your salvation" shows the people's confidence in God and their assurance of victory. "In the name of our God" and "We will set up our banners" refers to the people celebrating the victory of the battle. They praised God for delivering King David and his men from the battle.
Verse 6: "Now I know" is a statement of faith that God hears and answers prayer
Verse 7: Preparation for battle is necessary, but trusting in God should have first place in our lives.
Verse 8: The people were confident in God's deliverance
Verse 9: The cry in this verse is a shout of "I know You will save me Lord".
*The first thing we should do in any battle, is to pray to the Lord.