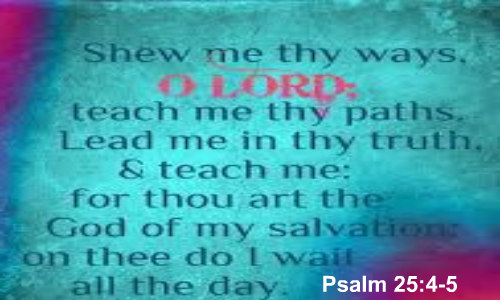 A Plea for Deliverance and Forgiveness
*Psalm 25 emphasizes David's deliverance from his enemies in verses 1-13, and for forgiveness from God in verses 14-15.
*David must trust God in the face of his troubles and troublemakers.
*David's prayer's in times of trials verses 1-7.
*David's praise in periods of confidence verses 8-15.
*David's petition for help in time of trouble verses 16-22.
Verse 1: "I lift up my soul", shows a vivid picture of David's dependence on God. Every time we pray in earnest, we lift our soul to God. "Earnest" means fervent, intent, purposeful, determined, serious, and sincere. "Earnest" implies having a purpose and being steadily and soberly eager in pursuing.
Verse 2: David claims his interest in God and expresses his faith and confidence in God, in the midst of all his troubles. "Let me not be ashamed" means David put his trust in God. Therefore, David knew he would not be ashamed of God's help. "Let not my enemies triumph over me" means his any of his enemies physically or spiritual.
Verse 3: What David desires for himself, he also desires for all the true servants of God. "Let those be ashamed, who deal treacherously without cause" means let the shame be upon my enemies.
Verse 4-5: Cultivating the knowledge of God requires the discipline of waiting upon God. To wait upon the Lord, is to have a sensitivity to His presence and His promptings. This quiets our hearts, and focuses our minds through thanksgiving and praise and allows Him to reveal any wrong attitudes or forgotten sins that would dull our sensitivity to His voice.
Verses 6-7: "Remember", and "Remember not", are not concerns about God forgetting something, but reminds us about God's gracious covenant promises and provisions, all of which are grounded upon God's "goodness" sake. David knew God took care of him in the past, and God would take care of him in the present and in the future.
Verse 8: Because God is good, upright, loving, and faithful, He will teach and guide those who sense they need God's help.
Verse 9: "Humble" means modest, meek, without an excess of pride.
Verse 10: True believers in God will walk His paths and will keep His covenant and testimonies. You want to know God's covenant and commandments? Then get into His Word, the Bible and ready it, study it, and consume it. Let His Word, the Bible saturate your spirit man completely.
Verse 11: "Pardon my iniquity, for it is great" means that David sought the forgiveness of God for the sins in his life. "Pardon" means to forgive. A maturing Christian develops an increasing sensitivity to sin, which drives them to ask God for forgiveness.
Verse 12-15: "Fear" means to reverence, respect, awe and submission to God. It is a reverential fear and not a fear of being scared. "Reverential fear" of God rises from an understanding of God's Holiness. The believer, who truly fears God, will carefully heed God's Word.
Verses 16-21: David realizes that sins make the soul more susceptible to attacks from the enemy.
Verse 22: David was not only concerned for himself, but for the whole nation of Israel. David realizes he is weak and has sinned and he cries out to God for forgiveness and God forgave him.