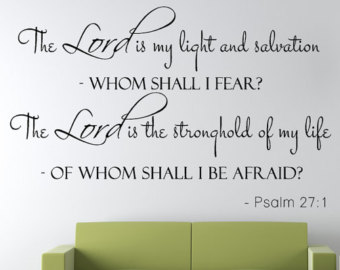 An Exuberant Declaration of Faith
*Psalm 27 includes David's total confidence in God and his prayer for deliverance.
*David expresses his complete confidence and trust in God verses 1-6.
*After David expressed his complete confidence and trust in God, David then presents his petitions(prayers) for deliverance from his enemies verses 7-12.
*David returns to his trust as the only proper attitude to have in waiting on God to act verses 13-14.
*In the presence of God, David engages in three conversations which help him balance the ups and downs in his life:
David talks with himself about privileges verses 1-6.

David talks with the Lord about his problems verses 7-12.

David talks with himself about perseverance verses 13-14.
*Perseverance means not giving up.
Verse 1: David was recognizing that God was his light and his salvation. David knew that God was his strength. Therefore, David had nothing to be afraid of.
Verses 2-3: David knew he could withstand these threats because of the confidence he had in God.
Verse 4: Describes why David had confidence in the Lord. David desired to live in God's presence. David's desire described here should be the desire of all born again christian's.
Verse 5: David portrays the privileges of divine protection as being hidden in God's tabernacle. In other word's, God was David's refuge. Therefore, as long as David was hidden by God, his enemies could not touch him. "Rock" refers to God being David's firm foundation.
Verse 6: David worshipped God for delivering him. The song here is a song of victory. David has made up in his mind even before the battle starts that he will be victorious. David did this as worship and praise to God.
Verses 7-14: After praising God in verses 1-6, David brings his petitions(prayers) to God. David realized how dependent he was on God. Even when those dearest to David turned against him, David knew that God would always be there for him. David was dependent on God to teach and lead him. David knew within his heart that it was his faith and belief in God that would bring him victory over his enemies.
*We need to go to God first and then we must wait on Him to work.