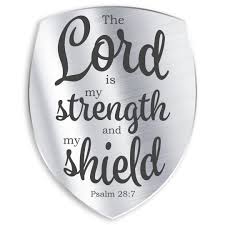 A Prayer for Deliverance and Rejoicing
*In Psalm 28, David pray's for deliverance from his enemies.
Verses 1-3: David prays for deliverance from his enemies.
Verses 4-5: David prays for divine retribution concerning his enemies. "Retribution" means punishment for the enemy. God gives the retribution, not us.
Verses 6-9: David praises God for delivering him. Regardless of David's circumstances, he had confidence that God would deliver him.
Verses 1-5: David is asking to be distinguished from those who have no respect for God. These are not only the enemies of David, but are also the enemies of God.
Verse 1: "Rock" is a symbol of God. David is speaking to God. David is asking God to not be silent to him.
Verse 2: "Supplications" means ernest prayer. It is a serious prayer from David. David means business with God. David is not only praying, but he is also praising God. We to should praise God when we pray to God.
Verses 3-5: The sins(iniquities) of David's enemies bring sharp judgements and punishments from God. God's judgement will fall on all who do not follow Him.
Verses 6: "Because He has heard the voice of my supplications", shows that David believed and had faith that God would hear him. We now see David praising the Lord.
Verse 7: David takes a firm stand in knowing God has already helped him. David praised and thanked God before his deliverance came and David praised God after his deliverance came.
Verse 8: God is the strength of His righteous people.
Verse 9: "Your inheritance" is God's righteous people. "Righteous people" are those who serve God with no compromise. David is saying, God keep Your people.
*As long as we stay 100% devoted to God, He will take care of us.