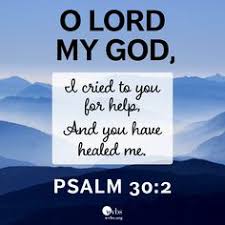 The Blessedness of Answered Prayer
*Dedication of the house of David was when Psalm 30 was written.
*Psalm 30 may point to either the dedication of David's palace(II Samuel 5:11) or the site of the future temple(II Samuel 24, 18:25, I Chronicles 21:18-30).
*In later Judaism, Psalm 30 was used in the celebration of Hanukkah and at the presentation of first fruits.
*Psalm 30 can be divided into four parts:
David's beginning praise verse 1a.

David looks back on historic prayers and testimonies verses 1b-9.

David looks ahead to continuing prayers and testimonies verses 10-12a.

David's concluding praise verse 12b.
Verse 1: "Extol" means to praise or exalt. David is lifting up the Lord in praise.
Verse 2: "You healed me": God alone is the healer. David could have been healed from mental suffering.
Verse 3: David is extolling(exalting) God for bringing him back from a near death experience. One thing David dreaded was dying before God forgave him of the sins he had committed.
Verse 4: Notice this verse lets us know that the statements David has been making apply to us as well.
Verse 5: When trials of this life come, remember joy comes in the morning. At the darkest point of the trial, dawn is beginning to break through.
Verse 6: David recalls his previous independent attitude and arrogant talk that God had warned him about. Example: "My prosperity".
Verse 7: It was God's favor that gave David what he needed. David got the "big head" like so many in ministry do today. Because of David getting the "big head", God hid his face(favor) from David. "God hiding His face" means He removed His favor from David. When one gets the "big head", God's favor will be removed from them.
Verse 8: David realized that his "self glorification" had caused God to remove His favor from him. David cried out to God for forgiveness. "Supplication" means to cry out.
Verse 9: The argument that David uses is that he could better serve God by his life than by his death.
Verse 10: David was asking God to turn His Face(His favor) back to him and to be his helper.
Verse 11: This verse describes David's success in seeking God in prayer. There was a change in David. David went from mourning to gladness. When we go to God in prayer with a genuine heart, there will be a change that takes place in us.
Verse 12: David recognizes that all he is and has is due to God's unmerited favor.
*So many forget to praise God for the things He has done, will do, and will continue to do for them. Let us not get the "big head", let us always give praise to the Lord for all things.