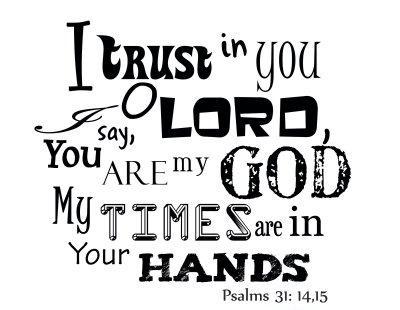 The Lord a Fortress in Adversity
*"Adversity" means the various forms of distress and evil. It is unfavorable fortune or fate; a condition masked by misfortune, calamity or distress.
*"Fortress" means a fortified place; stronghold; a large and permanent fortification; a fort; a place of defense; a place of security.
*Psalm 31, depicts the soul of a man in trust of God, through times of tears and turmoil, onto triumph.
Verses 1-6, 9-18: David is lamenting to God. "Lament" means to express great sorrow or regret and grief. "To lament" means that something horrific has likely happened in one's life and it moves the person deep within their soul and it is outwardly expressed.
Verses 7-8, 19-24: David praises God.
*Psalm 31, contains more of David's problems, prayers, and praises. David, again walks a road that takes him from anguish to assurance.
Verse 1: This is the reason why David appeals to God. David had firm confidence in God, that He would deliver him. Even though David could see the danger he was in, his belief in God's deliverance was not shaken.
Verse 2: "Bow down Your ear to me", is a bold pay attention to my prayer demand. "Deliver me speedily", shows that David was in great danger and that he required deliverance. "Be my rock of refuge", means be my shelter and security from the enemy, and be my strong foundation.
Verse 3: David is repeating here, that his entire faith is in the Lord God. This is not a want of David's, but it is a need.
Verse 4: The enemy was always trying to set a trap for David. David knew that his deliverance was in God.
Verse 5: "Into Your hand", involves total trust in God. This phrase depicts God's power and control. David was 100% committed in letting God lead and direct him.
Verse 6: "I have hated", meant that David resisted the influence of his enemies, who were idol worshippers. "Idols", means false god's. David did not hate the people, he hated their sin of idol worship. David's enemies had total disregard for the One True God. Stay away from those who worship false god's. They can do nothing but drag you down with them.
Verses 7-8: David praises God for deliverance.
Verses 9-18: David once again cries out to God for deliverance from persecution and trouble.
Verses 19-24: David once again praises God for delivering him.
*Even though attacks come from people in the world(non-christian's), and from people in the church(christian's), we must recognize that it is satan using the people to bring the attacks against us. It is not the people we hate, it is the underlying enemy, satan, who we hate.
*Even though, we maybe in battles now and then, we need to remember that JESUS HAS ALREADY WON THE WAR!!! and satan is DEFEATED!!!
*We are VICTORIOUS!!! satan is the LOSER!!!
*Remember to always praise God for Your deliverance.
*Praise should always be apart of our praying to the Lord.