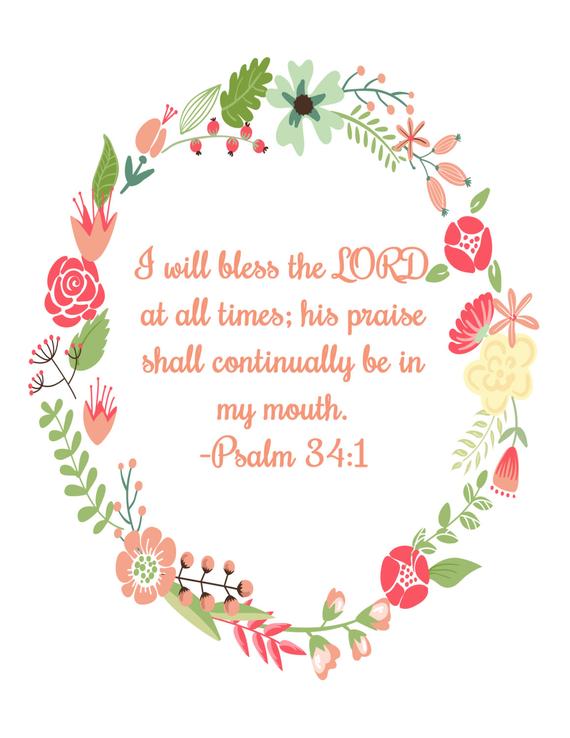 .
The Happiness of Those Who Trust in God
*David had been before Abimelech, who drove David away and David departed unharmed(I Samuel 21:10-15, 22:1).
*Psalm 34, contains a time of praise and teaching:
David's personal testimony/praise verses 1-10.

David's personal teaching verses 11-22.
*The background for Psalm 34 is found in I Samuel chapter's 21 and 22. In jealousy, King Saul pursued David and threatened his life, forcing David to live on the run. In one of the loneliest times of his life, David sought refuge with the Philistines. When the Philistines realized who David was, David acted insane to protect himself.
*Singing praise to the Lord at all times comes easy in the good times. However, in the mist of adversity David sang praises to the Lord. When God's righteous people are in the mist of adversity(hard times), they should praise the Lord. Isaiah 61:3, tells us to put on the garment of praise for the spirit of heaviness. When we praise and worship the Lord with our whole heart, the enemy has to flee.
Verse 1: David blessed the Lord at all times and praise was continually in David's mouth. David realized without the Lord God he could do nothing and was nothing.
Verse 2: This is proper boasting, because David was boasting of the one true God and not himself. Boasting on the goodness of the Lord encourages others who are facing hard times. The people need to hear this so that they can be encouraged in the Lord."
Verse 3: David calls for the people to praise the Lord God with him(corporate praise). "And let us exalt His name together" refers to proclaiming God to be the one true God. How beautiful and powerful it is when the righteous one's of God(born again christian's) corporately praise God in spirit and in truth.
Verses 4-6: David was poor physically. David was poor spiritually, weak and aware of his sins. In spite of his physical and spiritual poverty, David sought the Lord and the Lord heard him and delivered him. Only through true heart felt prayer can we overcome.
Verse 7: "Angel of the Lord" is a special manifestation of the Lord Himself. The Lord's presence was all around them.
Verse 8: Try the Lord and see that He is a very present help. We are told to eat His Word daily(study the Bible). Everything we need can be found in His Wo

V

rd, the Bible.
Verse 9:

"Fear the Lord" means to have holy reverence and respect of the Lord.
Verse 10: "Young lions", some say they represent the proud and violent. "But those who seek the Lord" refers to the true righteous ones of God. "Shall not lack any good thing" means God will supply our needs.
Verse 11:

David is telling the people that he would teach them the "fear" of the Lord. Remember "fear" means reverence and respect of the Lord.
Verses 12-14: Introduces some crucial character qualities of God's true people:
Verse 13: Keep your mouth from speaking wrong things. Always speak the truth of God's Word and truth alone.

Verse 14: "Depart from evil" means to leave ALL sinfulness. Do what is good in the Lord's eyes.
Verse 15: The Lord see's His righteous ones and He hears them when they call to Him.
Verse 16: The Lord's face is against those who continually live in sin-wickedness. "Their continual sinning, blocks God from hearing them, unless it is a prayer of repentance.
Verse 17:

If we are living totally in-line with God's Word, He will hear us and deliver us.
Verse 18: "Contrite" means crushed.
Verse 19: In this world a born again christian will have tribulations, afflictions, troubles, trials, etc... However, if we remain true and faithful to God, He will provide a way of escape for them.
Verse 20: God keeps watch over His righteous ones and keeps them from harm.
Verse 21: Evil mankind destroys its self. The wicked have no hope of everlasting life, unless they truly repent and truly turn from their wicked ways. The wicked(sinners) reject Jesus. They have sealed their doom, which is hell.
Verse 22: The Lord's servants are those who are truly born again christian's(righteous ones). They are secured in the Lord. They are totally sold out to the Lord. They do not compromise the Lord's Word-the Bible. Their souls are redeemed by the Lord and they will inherit heaven to be with the Lord forever.
*Trust in the Lord Jesus brings "Salvation". Trusting in the Lord Jesus not only saves us from a horrible sinful life here on earth, but it also gives us eternal life with Jesus in heaven.