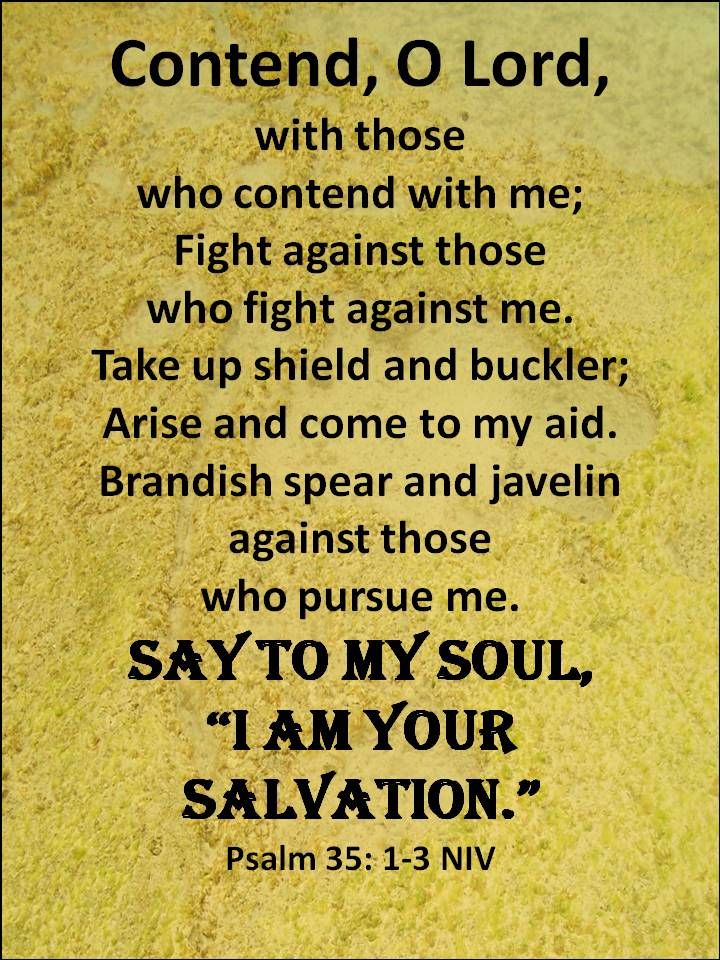 The Lord the Avenger of His People
*Psalm 35 expresses the frustration of David, whose mind is tortured by the sufferings of "injustice".
*"Injustice" means lack of fairness or justice. It is an unjust act or occurrence.
*Psalm 35 is David's cry of distress, due to him being falsely accused
*Psalm 35 could be divided into three parts, with each ending with a note of hope:
David's petition for deliverance verses 1-10.

David's expression of "lament" verses 17-18. "Lament" means expressing great sorrow or regret and even grief.

David's renewed petition verses 19-28.
*David's motives are not for revenge. David had opportunities to kill Saul but he did not. Rather it is a plea for God's righteous judgement and for David to once again thank God freely.
Verses 1-10: Describes the attacks that David was under
.
Verses 11-18:

The false accusations(lies) that David was experiencing.
David prays that God would examine evidence that was brought against him verses 11-16.

David prays that God would act without delay verse 17.

David praises to God
Verses 19-28: The mockery expected.
David prays for judgement concerning his accusers/enemies verses 19-21.

David prays for justice concerning himself verses 22-26.

David praise to God verses 27-28.
*We see a troubled David, whose enemies wanted to destroy him. We know the enemy, satan is the enemy of all believer's who faithfully follow the Lord. The enemy may try to accuse us; however, Jesus is our advocate and he will defend us.
*Jesus is our ever present help.
*Everything within us should praise the Lord.
*The Lord will take care of all false and evil things that come against us. We just have to learn to take our hands off of it and let the Lord handle it.
*We need to praise God all day long, even when we don't feel like it.
*We are to pray without ceasing, which means to keep your mind in the frame of prayer.
*Every christian should always "Bless the Lord at all times".
*Praise unto the Lord should continually flow from the christian's mouth.
*No matter what we face, we should always Praise the Lord.
*Praise unto the Lord is a powerful weapon to use against the enemy satan.
*Isaiah 61:13, tells us to put on the garment of Praise for the spirit of heaviness.
*What heaviness are you facing today?