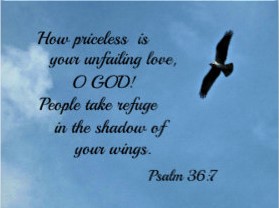 Man's Wickedness an God's Perfections
Verses 1-4: God has given an "oracle" to his "prophet". David was the prophet. "Oracle" means a message of special insight given by God. This oracle was concerning how the wicked(sinners) look at life and how they live. The wicked flatter themselves to the point that they are apathetic to their evil behavior. "Apathetic" means showing no concern.
Verse 1: "No fear" means no respect for God. David knew that the wicked(sinners) had no respect for God. The wicked(sinners) believed God was beneath them.
Verse 2: The wicked flatter themselves so much until they are unable to hate their own sins. In other words, what they do wrong is not sin to them. "flatters" means being full of conceit. Even when the wicked's sins are found out, it does not change him.
Verse 3: The words from the mouth's of the wicked are sinful. The mouth of the wicked (sinners) is full of cursing and bitterness, filthy words, corruption, lying, deceit and self flattery. The heart of the wicked(sinners) is corrupt to. "Ceased to be wise and to do good" means the wicked are stupid and do bad things.
Verse 4: "He devises wickedness on his bed" means even at night he plans wicked schemes against other people. "He does not abhor evil" means he does not hate evil. He loves evil He takes pleasure in evilness. Evilness is sin. His mind has become corrupt. His conscience has become seared, which means the conscience has become insensitive and can not tell right from wrong.
Verses 5-9: Describes the attributes of God. "Attributes" means character. The attributes of God are:
Mercy verse 5

Faithfulness verse 5




Righteousness verse 6




Judgement verse 6




Loving kindness verse 7




Trust worthy verse 7




Supplier verse 8




Life verse 9




Light verse 9



Verses 10-12: David's prayer.
*David ends Psalm 36 with confidence knowing that God would take care of him and would defeat his enemies.
*Rest in knowing that God will take care of you and He will defeat your enemies.