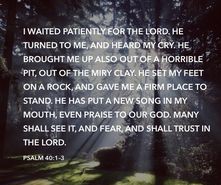 Faith Persevering in Trial
Verses 1-10: David praises God.
Verses 11-17:

David brings his petition to God in prayer. David's petition is a plea for deliverance from his enemies and the triumph of all righteous people.
Verse 1:

"I waited patiently" was not a single momentary act of expectation or hope, it was continuous. This is an earnest heart felt prayer. David tarried in prayer, until he heard from the Lord. So must we tarry in God's presence in prayer. "Tarry" means to stay, to abide, to wait, to stay in expectation. "And He inclined to me" means He heard and answered me. "Inclined" means to lean/bow. "And He heard my cry" means God heard David's prayer. God always hears the prayer's of His righteous one's. God never turns a deaf ear to His righteous one's. The problem many times, is that we do not wait in His presence.
Verse 2:

"Horrible pit...the miry clay" describes David's hopeless and helpless situations. "Rock" refers to the Lord. We must not build our relationship with the Lord on shifting sand. We must build our relationship with the Lord on the solid rock. When we build on the rock, we will not be moved.
Verse 3: "Praise to our God" expresses the new song of praise unto the Lord. "Many will see it and fear" means the people will have reverence of the Lord. "And will trust in the Lord" means the people will put their trust/confidence in the Lord.
Verse 4:

"Blessed" means they are save and secure in the Lord. "And does not respect the proud" means they did not turn to those who did not trust or respect God. "Nor such as turn aside to lies" means they did not turn to anything that was not of God.
Verse 5:

David could not list all the many things that God had done for him, because they were too numerous.
Verses 6-10:

Describes David's faithfulness to God.
Verses 11-17: David's prayer to God. "Poor" may refer to the person, whose outward condition makes him poor, afflicted or depressed. It may also refer to the person who inwardly is lowly, humble, and absolutely not self exalting.
*Without God, one is poor spiritually.