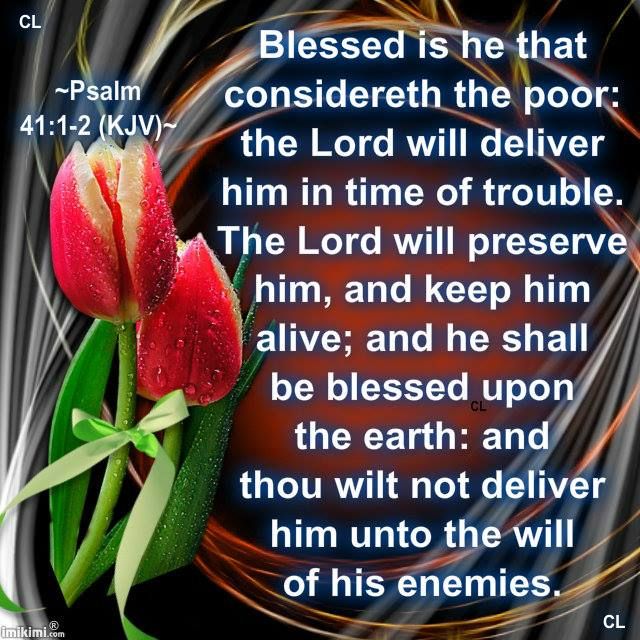 The Blessing and Suffering of the Righteous
*Psalm 41 ends Book one. The Psalms were divided into five books. Book one is Psalms 1-41.
*Psalm 41, 55, and 109 describe David's betrayal by a so called friend and are quoted in the New Testament with reference to Judas Iscariot(Luke 22:21-23).
*At the heart of Psalm 41, is the sad reality of being forsaken by ones's(so called) friend verse 9.
*The experience of David in Psalm 41, could have occurred on several different occasions.
*David's experience of betrayal by a friend, is prophetic of the experience of Jesus being betrayed by a friend(John 13:18).
*The three key sections of Psalm 41, relate well to the believer who has been deceived by a friend:
The principle that the Lord delivers the needy, verses 1-3.

A statement of David's own hurtful experience, verses 4-9.

Expression of David's confidence in God's vindication of him, verses 10-12.
*Doxology is in verse 13. "Doxology" means a short hymn of praises to God in worship. The Doxology is usually at the end of the Psalms and hymns.
*The words in Psalm 41, are general and apply to anyone who might be down.
*David's confidence can be seen in verses 1b-3, and verses 11-12.
*David's prayers can be seen in verses 4 and 10.
*David's lament(prayer) is in verses 5-9. "Lament" means expressing great sorrow, regret, and grief.
*David's message in Psalm 41 speaks to God's tender, loving care towards him in a critical time of his life.
Verse 1: "Blessed" here means happy. "Poor" here means poor in health, the weak, and poor. "Considers the poor" means to be considerate towards those who are in afflictions. "The Lord will deliver him" means God will take care of the poor and the one who takes care of the poor. God wants us to help those in need.
Verse 2:

If you give with a right heart, God will give back to you. "Right heart" means you are doing it as a ministry for God and not for "look at what I am doing".
Verse 3:

This verse, pictures God as the Great Physician giving out His tender loving care. God is our very present help in time of trouble.
Verse 4: David is confessing his sin's and is asking God for forgiveness.
Verses 5-9: David's enemies plotted against him and spoke lies against him. Even his so called friend turned against him.
Verse 10:

David is asking God to deliver him and to show the people that He has not left him.
Verse 11:

David knows that God is with him, because his enemies did not triumph over him. Sometimes it takes a while for us to be victorious over our enemies, but if we do not doubt God, we will come forth victorious.
Verse 12:

David is saying that the Lord not only saved him, but saved his reputation.
Verse 13:

This is a thankful David, who praises the Lord. The Lord loves to hear His righteous one's speak praises unto Him.