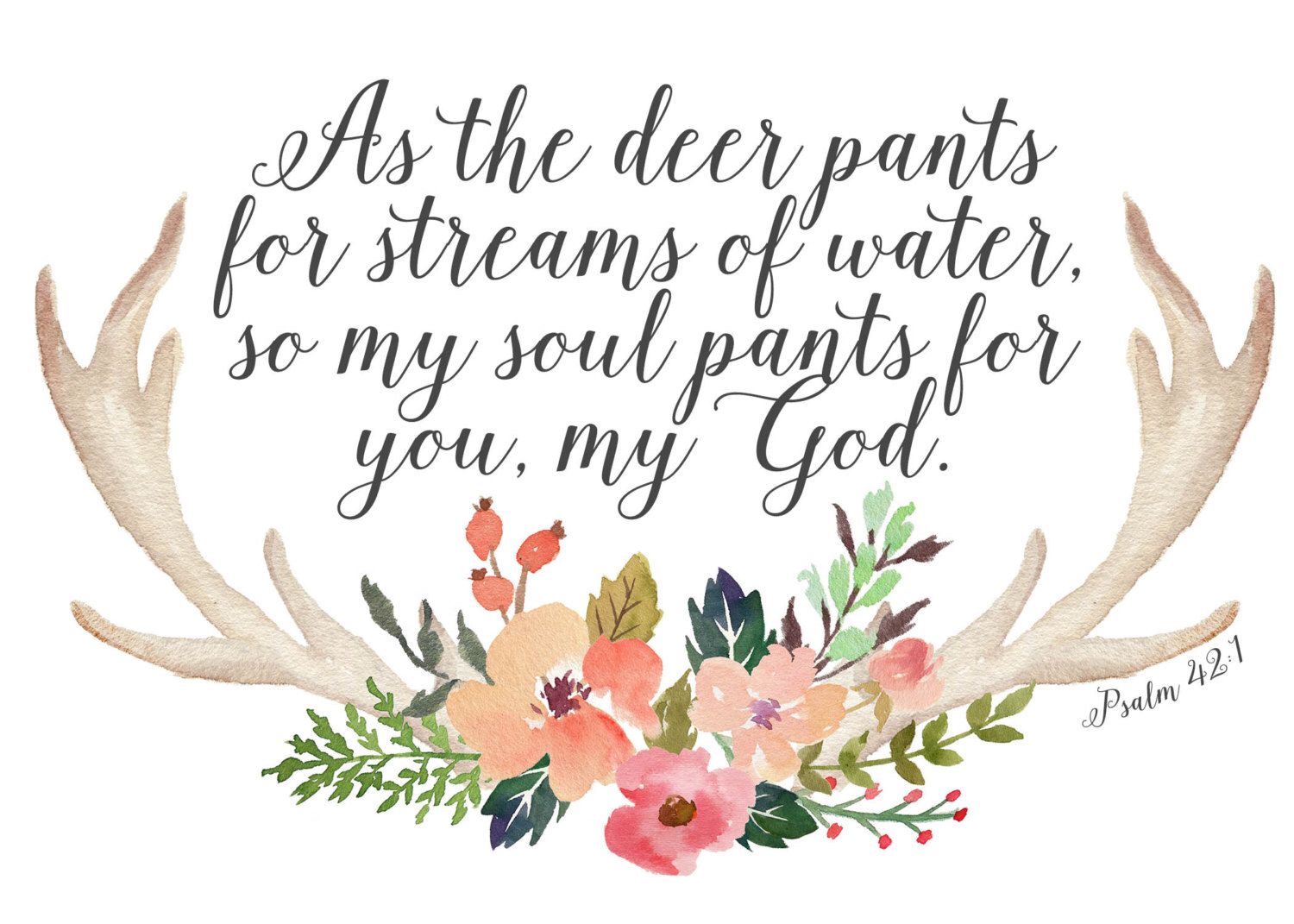 Yearning for God in the Midst of Distress
*Written by the sons of Korah.
*Written in first person, which means the sons of Korah wrote down as it was told to them or as they heard it.
*The sons of Korah were the sons of Moses cousin Korah. They were an important branch of singers.(II Chronicles 20:19).
*Psalm 42 was about David.
*David expresses his deep longing for God in verses 1-5.
*David expresses his sad lament and his lowness of spirit before God in verses 6-11a.
*David expresses his sure confidence in God in verse 11b.
*The occasion and situation of Psalm 42, are not specified. However, David's situation was intense and greatly aggravated by his surrounding mockers/enemies.
Verse 1: The description here gives us an idea of David's longing to attend the public worship of God. David was thirsty in hi spirit. "So pants my soul after You, O God", expresses David's eagerness of worshipping God.
Verse 2: David hungered to be in God's presence. "When shall I come and appear before God", means to come in the tabernacle. The tabernacle was where they went to worship God. Notice David desires with everything in him to be in God's presence. David longed for fellowship with God.
Verse 3:

"My tears have been my food day and night", means that David could not eat or that his tears flowed heavily while he ate. His enemies were the philistines. David was serious about his request to God.
Verse 4: These are attempts at trying to unburden oneself.
Verse 5: David is sick inside because his friends have turned against him. Then David gives himself very good advice, "Hope in God". In the midst of his troubles, David praised God.
Verse 6:

Even though David is not near the tabernacle, he will not forget God and he will worship God where he is.
Verse 7: David's troubles came pouring down on him one after another.
Verse 8: David's statement of his confidence in God interrupts his lamenting. When we worship and praise the Lord, we become aware of Him. Suddenly, the circumstances of life begin to fade when compared to the greatness of God.
Verse 9: David calls God his "Rock". Then why does David not stand firm on the "Rock" instead of thinking God has forgotten him? David is looking at his circumstances instead of standing fast upon the "Rock". Don't look at the circumstances that surround you, but keep your eyes on the Lord. Stand fast on the "Rock" and your circumstances will not shake you.
Verse 10:

The attacks of David's enemies were as though his bones were breaking. In other words, the attacks from his enemies were very painful. The enemy may come at you time after time; however, you must be rooted deeply in the Word of God so that you can firmly stand and trust God at all times. And what you are going through shall eventually pass away.
Verse 11:

Verse 11 is the same as verse 5. David knows he has no reason to doubt God. God has always protected David, and He will continue to protect David. David ends with praising God.