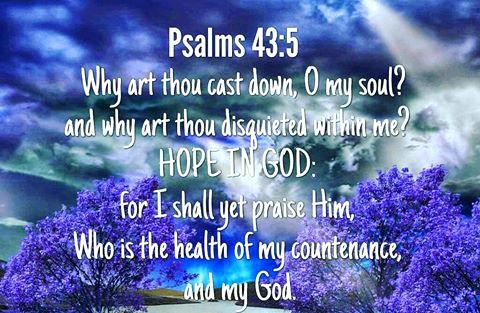 Prayer to God in the Time of Trouble
*Written by the sons of Korah.
*Written in first person, which means the sons of Korah wrote it down as it was told to them or as they heard it.
Verses 1-2: David prays to God for about righting the wrongs.
Verses 3-4:

David prays to God to restore proper or appropriate things.
Verse 5: David's pep talk to himself.
Verse 1: "Vindicate me O God", does not mean pronounce sentence upon me but, undertake my cause and do justice on my behalf. David felt that he was greatly wronged by the treatment which he received from the people, and he asks God to have it shown that he was not guilty of what his enemies charged him with. David was an upright man and a friend of God. "And plead my cause", means David is asking God to defend him. "Against an ungodly nation", means David's enemies. David does not mind God judging him, because he knows his heart is right with God. David is asking God to show these ungodly men that He is on David's side.

Verse 2: David knew God was his strength. "Why do You cast me off"?, is the language of unbelief. Because of his trouble, David was ready to conclude that God had rejected him. God does not reject any of His righteous people. "Why do I go mourning because of the oppression of the enemy"? Here David is whining. God does not mind us asking why. God does not want us doubting that He is God.
Verse 3: "Your light and Your truth, let them lead me", is David asking for divine guidance. "Tabernacle", is the place where David could go and meet with God.
Verse 4:

David would be forever praising God for rescuing him.
Verse 5:

David tells himself to "Hope in God". David realizes the only hope he has is in God. In other words, David was telling himself to stop looking at the circumstances and to look to the Lord, who is his ONLY HOPE.