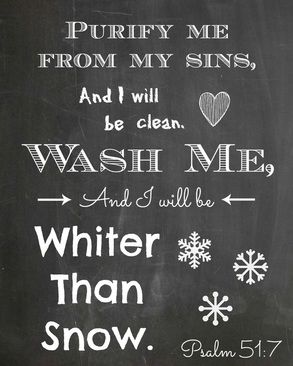 *Psalm 51 is called a "Penitential" Psalm.
*"Penitential" means confession.
*Psalm 51 was written sometime after David's sin with Bath-Sheba(II Samuel 11). Nathan the prophet, was sent by God to tell David of his sin.(II Samuel 12).
*Psalm 51 tells why David was "a man after God's own heart". David was not perfect, but he had a sensitivity to when he sinned. David knew that when he did wrong and it was brought to his attention, that he had to ask God for forgiveness.
*Psalm 51 clearly teaches that those who have failed God, may be restored to the service of God.
*Psalm 51 is an Old Testament passage on man's repentance of his sin's and God's forgiveness of sin.
*David recognized that the sin he committed was against God also. David took full responsibility for his sin.
David's plea for forgiveness, verses 1-2

David's confession, verses 3-6

David's prayer for moral cleanness verses 7-12

David's promise of renewed service to God verses 13-17

David's prayer for national restoration verses 18-19
Verse 1: Even though David had sinned, he knew that forgiveness from God was available and that he could go to God asking for forgiveness. David comes to God with a true heart of repentance. David made a heart felt confession and not just a lip confession.
Verse 2: Sin causes a person, who is at all conscious of God, to feel dirty. David felt dirty inside and outside. David asked God to cleanse him inside and outside.
Verse 3: Acknowledgment of our sin is what the Lord requires. The Lord promises forgiveness upon our heart felt confession of our sins to Him. David had a heart felt confession.
Verse 4: David realized that the sins he committed was also against God.
Verse 5: David is blaming his sin on the fact that he was a fleshly man. Acting in the flesh will always lead to sin. That's why it is so important for us to allow our spirit man to rule our fleshly man.
Verse 7:

"Hyssop" was a herb associated with cleansing and purification(Numbers 19:6) and is used here to symbolize the cleansing of the soul. "Wash me, and I shall be whiter than snow" means to cleanse me of my sins.
Verse 8: God's conviction bore down hard upon David, until it felt like his bones were breaking. Sin is a heavy weight. Sin comes to kill, steal, and destroy. Sin can literally make one physically sick.
Verse 9:

David was saying to God to not look upon his sin and to forgive him of all his sins.
Verse 10:

David was asking God to purify his heart and renew his spirit. I say David was wanting God to give him a total overhaul.
Verse 11:

David did not want to be away from God's presence. David knew that without the presence of God in his life, he would be lost forever.
Verse 12:

David was saying ignite the fire of Your salvation in me again. This is restoration.
Verse 13:

David would teach others the ways of God. In other words, David would tell those that sinned that there is forgiveness and restoration when they confessed their sins to God.
Verse 14:

David was asking God for forgiveness of causing the death of Uriah, Beth-Sheba's husband. David would sing of God's righteousness.
Verse 15:

By God forgiving David, David is once again able to sing praises unto God.
Verses 16-17:

Ritual sacrifice without genuine heartfelt repentance is useless and void. True repentance comes from the heart and there will be true changes that take place.
Verses 18-19:

David was saying do not let my sin hinder You O Lord from doing good to the people in Zion, the city of God, which is Jerusalem.
*Ask the Lord Jesus to create a clean heart in you. Seek His forgiveness.
*Holiness is most beautifully displayed in one, who is 100% submitted to the Lord. They will be humble before the Lord at all times and they will allow God to mold them into what He desires for them to be.