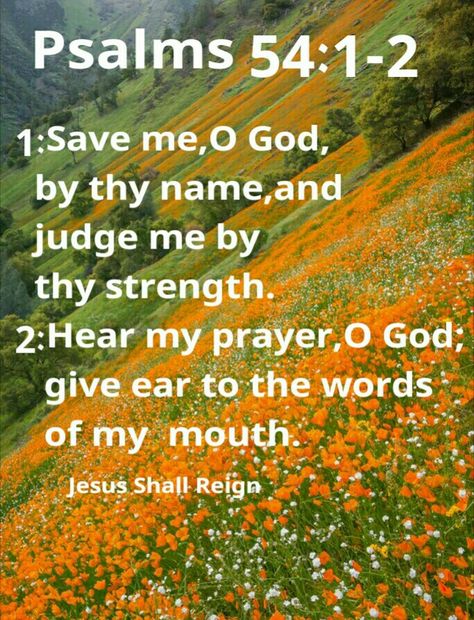 Answered Prayer for Deliverance from Adversaries(enemies)
*David wrote Psalm 54 when the Ziphites went and said to King Saul, "Is David not hiding with us"? Ziphites betrayed David.
*"Ziphites" lilved in a desert town in Judah, which was originally built by Mesha, the son of Caleb(I Chronicles 2:42). The Ziphites were most likely from David's own tribe, but they allowed foreigner's to live inside their city Ziph. Ziphites betrayed David by telling King Saul where he was. Ziphites were descendants of Judah. Ziphites were spies for King Saul.
They were not what they professed to be.

They were self-seeker's. They were for their own personal gain.

They cared nothing for God. This explain's why they did not have any concern for David.
Verses 1-3: David prays for deliverance from his oppressors.
Verses 4-5:

David expresses his confidence in God hearing him and delivering him.
Verses 6-7: David promises his thanksgiving upon deliverance.
*Psalm 54, is encouragement to any born again believer, who has been maligned. "Maligned" means, to bad mouth someone; having a very evil disposition towards others; harboring violent hatred.
Verse 1:

David appeals for help based on God's character. God's name includes His covenant protection. David knew that God would vindicate him. David knew his deliverance would come from God.
Verse 2:

David knew that God has His ear turned toward him.
Verse 3: Often times people are against the people of God, because they are against God.
Verse 4:

David knew that as long as God was on his side, he would prevail.
Verse 5: David knew that God would repay his enemies. When the enemy comes up against us, the enemy is coming up against God to.
Verse 6:

David is not ashamed to worship God. David would praise God so that others could see and know that God delivered him.
Verse 7:

David has hope because he has seen God bring victory over his enemies in the past.