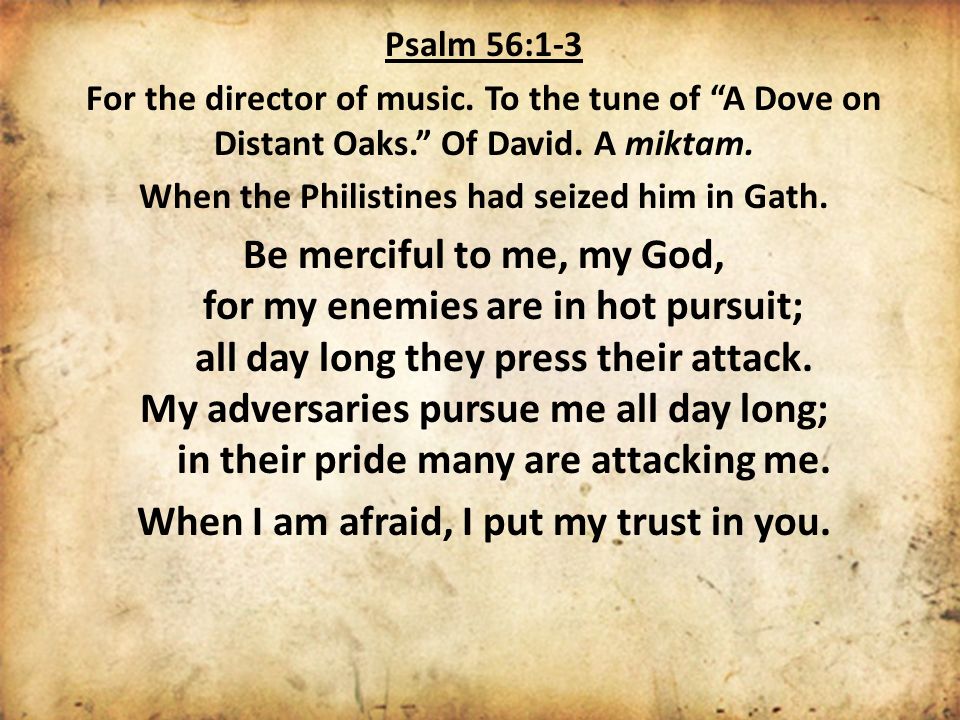 Prayer for Relief From Tormentors
*"Tormentors" mean, enemies.
*David was fleeing from Saul. David went to Gath to hide out among the Philistines. The Philistines recognized who David was and "seized" him. "Seized", means to take by force; to capture or conquer; to fall upon or rush upon suddenly and lay hold of.
*The Philistines were David's enemy.
Verses 1-4:

David tells of his threatening enemies and then he tells of his faithful God, David pleads to God to be merciful unto him, because his enemies are not letting up. The true born again believer must be constantly on guard, because the enemy, satan, is in constant pursuit to try and destroy them. Many were David's enemies. He was fleeing from Saul, and now the Philistines were seizing upon him. The Most High, who is God, is the only one who can deliver the true born again believer. When the true born again believer begins to feel afraid, that's when their total confidence in God will arise and calm their fear. David chose to praise the Lord God. Therefore, David did not fear what his enemies could do to him. David did not look at the size and power of his enemies. In other words, David did not focus on the circumstances that surrounded him. David kept his focus on the Lord God, who was the only one who could deliver him.
Verses 5-7: David is watched by his enemies. David's enemies twisted his words to mean what they wanted them to be. In other words, David's enemies lied on him. satan will cause people to twist what we say to mean what they want them to mean. In other words, they will lie on you. When someone lies on a true born again believer, they are being tools used by satan to try and destroy the person. If satan can not destroy a true born again believer one way, he will try another way. satan sends his demons to do his work. They may get away with if for awhile, but the day of reckoning is coming when they will have to face God, who will repay them.
Verses 8-11: David is watched by his protector, who is God. David is asking God to keep a remembrance of all his sufferings so that God could vindicate him. God is so observant of us that every step, every word, every prayer. and everything we do is recorded. In other words, God knows ALL things about us. Nothing is hidden from God. One day the books of our lives will be opened. Will we be ashamed when He reads from the book of our life? Prayer is powerful. the effectual fervent prayer of the true born again believer is powerful against his or her enemies. (James 5:16}. For our prayers to be effectual, there can be no known sin or sins in our lives. David knew that God was on His side and was for him. So does the true born again believer know that God is on his or her side and is for them. When God hears our cries, the enemy better run. Here David is saying, no matter what, I will praise the Lord God at all times. No matter what comes our way, we must praise the Lord God at all times. David knew that his enemies may kill his body, but that they could not kill his soul or spirit.
Verses 12-13: David is believing in and holding fast to God delivering him. Psalm 56, expresses the kind of confidence in the Lord that true born again believer's should have when they are faced with hard and trying circumstances. David is saying here that the vows he made to God to praise Him, he would keep. It is a very dangerous thing to make a vow to the Lord God and not keep it. Not keeping the vow to God, makes one out to be a liar. David has been delivered from his enemies. David ask God to guide his steps. Everyone feels afraid at times. Faith in the Lord God can turn that fear into trust. Each time you feel afraid, choose to trust in the Lord God. Set your sight on the Lord God. The Lord is greater than anything you may ever fear.
F=False

E=Evidence

A=Appearing

R=Real
*satan wants us to fear.
*Jesus wants us to trust totally in Him.
*Which one do you choose today?nbsp;