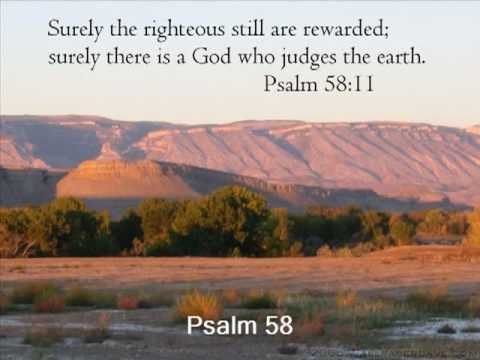 The Just Judgement of the Wicked(Sinner's)
*Psalm 58, is a call for the cleansing of corruption(sin) among the justice system of Israel.
*Psalm 58, could be a call for the cleansing of corruption(sin) among the church body.
Charges against the wicked people, verses 1-5.

David's prayer(petition), verses 6-9.

God's vindication on the behalf of His righteous one's, verses 10-11.
Verses 1-5: "Sons of men" were wicked, worldly, and unrighteous people. They were sinners. The protest was against the unrighteous people, who perverted God's Law-His Word and pretended to uphold God's Law-God's Word. They did not take a firm stand for the righteousness of God. David is saying, that these unrighteous people pretended to be follower's of God, when in fact they were wicked, worldly, and unrighteous. Theses people knew that they were sinning, and they enjoyed it. Theses people were guilty of violence and oppression of the true righteous one's of God. Today, we see people pretending to have a relationship with the Lord, when in fact they are wicked, worldly, sinners. These people are what are "hypocrites", who mislead people. These people are poison. They are evil, and deadly. It can easily be said that their conscience has become "seared" and they have a "reprobate mind". "Seared conscience" is a conscience that has become insensitive and has dulled the sense of right and wrong. "Reprobate mind", is a mind that has rejected the God's Word, to the point where God in turn rejects them. Because these people knowingly choose to keep on being wicked/sinning, they have sold out to the enemy satan and it becomes hard to reach them with the truth of God's Word.

Verses 6-9: David is asking God to render the wicked people harmless. There are people in the church body today, who pretend to know God, when in reality they do not know God, and all they are doing is destroying the church body. We need to pray and ask God to give us the spirit of discernment, so that we can know who is of God and who is not of God. We need to pray for God to lock the mouths of those who are not of God, so that they will not be able to destroy the church body. David prayed that if these wicked/evil people did not change, that they would leave. So must we pray for people like this, who are destroying the church body. Either they will change or they will leave. God will shut their mouths and He will remove them. These people will be removed either by leaving altogether or by death.
Verses 10-11: The wicked will be defeated. "Vengeance" belongs to the Lord. The Lord will not allow the wicked to continue forever. The Lord will reward those who remain righteous before Him. The reward of the righteous will be to live eternally in heaven with the Lord Jesus. Those who reject the Lord are not blessed and their end is destruction, which is hell with satan for eternity.
*Which do you choose today? Heaven, with the Lord Jesus or hell with satan.