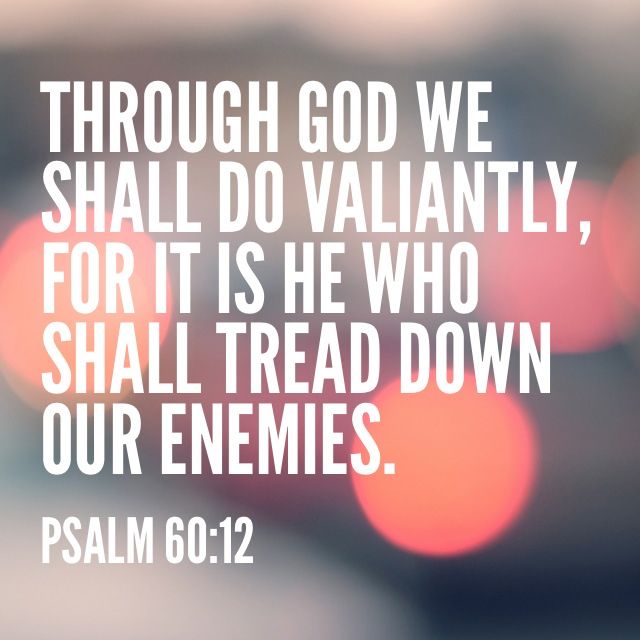 Urgent Prayer for the Restored Favor of God
*Psalm 60 expresses national despair after enduring a military set back(II Samuel 8: 3-6,13, I Chronicles 18:12).
*While David and the main army were fighting in the northern part of the country, one of Israel's other neighboring enemies, Edom, successfully attacked the southern part of Judah. David ultimately prevailed in victory. "Joab", the nephew of David and the commander of David's army, went to Edom and killed 12,000 Edomites in the valley of salt. The valley of salt, is a valley between Judah and Edom on the south side of the Dead Sea.
Verses 1-5:
David is praying that God will come back to them with His blessings. When Saul took over the land as their king, God was displeased with them. God remained displeased with Israel and had scattered them. God did not want Israel to have an earthly king. God wanted to be their only king. The people of Israel sinned when they insisted on having a king like all the other countries around them. God did not want Israel to be like other countries. God wanted Israel to be a peculiar people, a people set apart to worship Him. Israel desiring to be like the rest of the world caused God to be displeased with them. David is asking God to heal the wounds of Israel's past sins. The outpouring of God's divine judgement has be out poured on Israel. Hard times come to cause people to repent and return to God. God had given Israel a banner(a flag). The banner was a rallying point for the defense of the truth of God that Israel possessed in the midst of a pagan world. David quickly turns to prayer asking God to deliver and save Israel.
Verses 6-8: David knew God always kept His Word. David won the battle and now he would divide the land according to God's boundaries for the land. All these key lands in Israel belong to God. Sine the beginning, God has destined what lands belonged to Israel.
Verses 9-12: David would have to go into the center of the land to defeat Edom. David knew that God would bring them victory. David was fully aware that when God went with them into battle, victory was theirs. David wanted to make sure God was with them. David knew to not go into battle without God on his side. David waited on God. David and the people knew that only God gives the victory.
*The only way we can have victory, is to let God lead us.