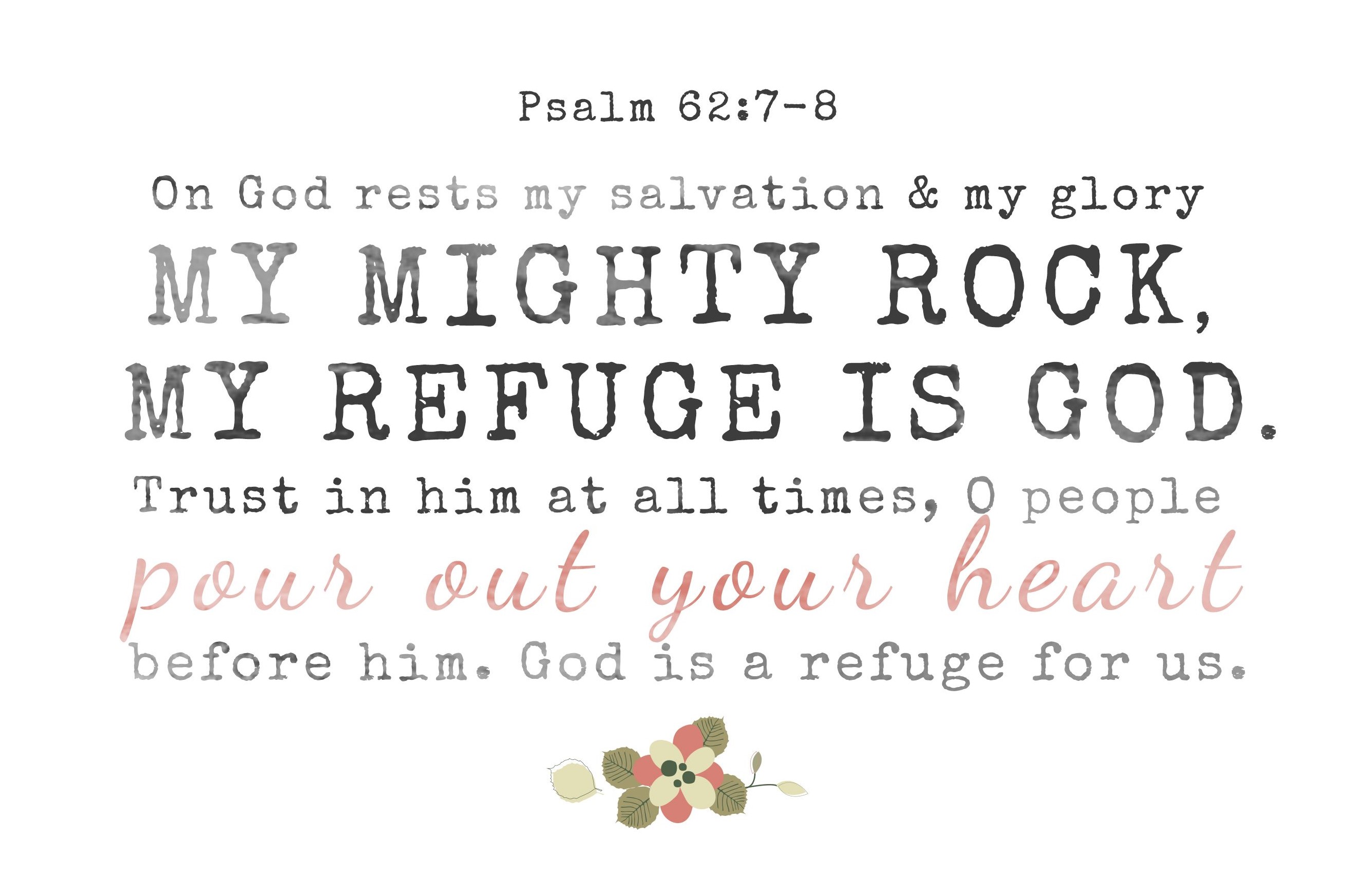 A Calm Resolve to Wait for the Salvation of God
*Whether Absalom's rebellion is the setting or not(II Samuel 15-18), David writes Psalm 62 while facing betrayal from someone.
*In Psalm 62, David addresses the problem of his enemies, but David's main focus was on God, his deliverer.
*David's confidence in God, saturates Psalm 62.
*David uses five words to describe God's protection:
Rock, verses 2, 5, 6-7.

Salvation, verses 1-2, 6-7.

Defense, verses 2, 6.

Glory, verse 7.

Refuge, verse 7.
*We are in the Will of God for our lives, when our souls wait on Him.
*David having put his total confidence in God, know that his enemies will be defeated.
*As David's faith in God advances to an unshaken steadfastness, and his joy in God improves into a holy triumph.
*Prayer and praise, strengthens our faith in God.
David affirming his covenant relationship with God, verses 1-2, 5-7.

David talking about his enemies, verses 3-4.

David's trust in God, verses 8-10.

David's praise to God, verses 11-12.
Verses 1-2, 5-7:
"Waiting upon God", indicates that David was silent. This means that David's trust in God was both patient and uncomplaining. "Truly", indicates that David was waiting on God only. David knew that God was his only hope in being delivered; therefore, David could not be moved. David knew that he could not depend on anybody here on earth and that his faith was totally in God, who never let him down. "I shall not be moved", was David demonstrating his increased confidence in God.
Verses 3-4:
David had confidence in God taking care of his enemies. David's enemies were two-faced. They only pretended to be David's friends so that they could destroy him.
David believed in God at ALL times. David warns the people about trusting in mankind and not God.
David was saying that God's Words are dependable and are absolutely the truth. David knew that God was merciful to those who are totally faithful to Him.