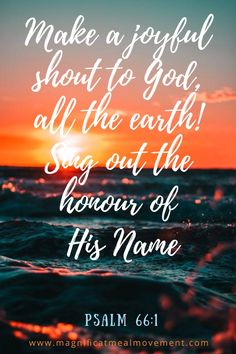 Praise to God for His Awesome Works
*Psalm 66, is a Psalm of national thanksgiving for some occasion of great deliverance.
*Psalm 66, also contains the kings personal note of thanksgiving at the end.
*Psalm 66, focuses on group praise, and then focuses on individual praise.
*Psalm 66, goes over some of the major miracles in Israel's history and tells that God has always been faithful in the midst of trouble.
Corporate praise to God in verses 1-12.

Individual praise to God in verses 13-20.
Verses 1-12:
"Joyful noise", was a shout of loyalty, with special honor and respect shown publicly to God. The people of Israel expressed the honor of God through singing. They gave God heart felt praise. The people of Israel reverenced God with the utmost respect. The enemies of God will become submissive to God. The enemy does not submit willingly to God. It is the power of God that makes the enemy submit to Him. One day all the earth will praise and glorify God. David is telling the people to look back at where God had brought them from. God had delivered them from the bondages of Egypt. God parted the Red Sea so that they could cross over on dry land. God caused the Red Sea to drown the Egyptian enemy. God protected the children of Israel from their enemy, the Egyptians. God protected them then and God will protect them now. The children of Israel were to bless the name of God out loud so that people could hear them. In other words, they were not to be ashamed of worshipping God out loud. God had prevented Israel from being wiped out by their enemies. God had brought Israel through many trials and God would continue to protect Israel from their enemies.
David went into the temple to offer sacrifices of dedication as he had promised God. David kept every vow he made unto God for delivering him. David gave God the best in sacrifices. David invites all to come and hear what God has done. David testified to all of the goodness of God. David prayed unto God. During his prayer, David not only asked for deliverance, but he also praised God for His deliverance. David knew that if he had sin in his heart, God would not hear him. David went to God with a repentant heart, asking for forgiveness of his sins; therefore, God heard him. David blessed the Lord God with his praises because God had heard him.
*If we have sin in our hearts, God is not obligated to hear our prayers. Do we go to God with a repentant heart? We need to make sure that their is no sin in our hearts. If there is sin in our hearts, we need to right then go to the Lord and ask for forgiveness. God hears the prayers of a repentant heart.