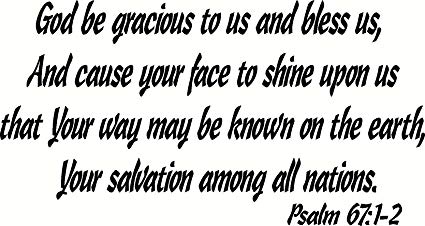 An Invocation and a Doxology
*The name of the author is not given. However, the style of Psalm 67 is in David's style. So the authorship is said to be David.
*"Invocation", is a prayer asking for God's presence to be among His people.
*"Doxology", is a short hymn of praises to God.
*Psalm 67, is a national Psalm of thanksgiving, expressing the gratefulness of the people of God and their confidence in His continual blessings.
David's prayer for divine mercy in verses 1-2

David's prayer for universal worship in verses 3-7
Verses 1-2:
David desires God's blessings in order that through the nation of Israel, God's covenant people, God's salvation may be known to the world.
David was asking God to let all nations praise Him. David was asking God to let all the nations be glad and sing praises unto Him. David knew that God was the judge of all people. It is evident here that God's intent was for all people and nations to know and serve Him, and to enjoy His presence. The ultimate goal of salvation is not just to know the Lord God ourselves, but to praise Him for being our Lord.
*If we praise and worship the Lord God with our whole heart, His blessings will come on us.