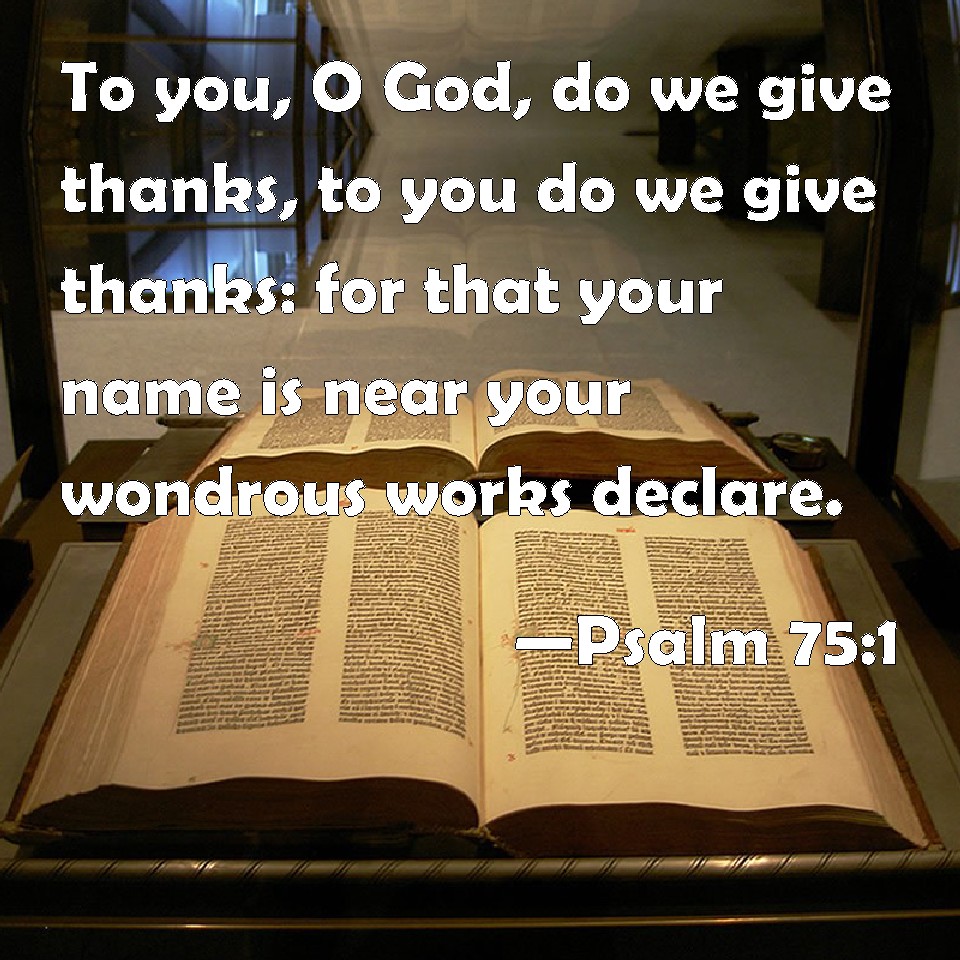 Thanksgiving for God's Righteous Judgement
*The message of Psalm 75, is that God is the ultimate judge.
Thanksgiving for God's presence and work in verse 1

Promises of God's judgement in verses 2-5

Explanation of God's judgement in verses 6-8

Confidence in God's judgement in verses 9-10
Verse 1:
"Thy name in near" means God's name represents His presence. Psalm 75 begins with praise. The repeating of "we give thanks" could mean that they praised God continually. As true born again christian's, we should give praises to the Lord at ALL times.
God is the only one who knows the time. God is a just judge and He will judge all sinner's and christian's fairly. The Lord God is in control, even when it seems that everything is falling apart. God is the great judge and ruler, and He will not let wickedness, evil powers, or the arrogant to under mind His Word. God will take care of His true righteous one's. A fool is someone, who does not respect God. One is not to speak with arrogance and pride or bragging on themselves, leaving God out.
God will judge all people's. God is God over all. God is the ONE TRUE GOD and there is no other. God is the one who blesses people. Those who believe that their success comes from themselves, are foolish. Their success is for the here and now, not for eternity and the bible calls them foolish. These are the one's that "God puts down". Those who whole heartedly rely on God, and they are totally sold out to God(true born again christian's), they are the one's that "God exalts". "Cup in the Lord's hands", is the cup of wrath, which describes God's judgements that He pours out on the wicked(sinners). God will pour out His wrath(judgement's) on the wicked(sinner's).
Asaph is saying that at all times he will praise God and he will declare His truths. In the good times and in the bad times, we should praise the Lord God and declare the truth of His Word. The wicked will be destroyed and the true righteous one's of God will be lifted up(saved).
*Psalm 75, is also prophecy concerning what is to come.
*How is it with you today? Will you be saved from God's wrath, or will God's wrath be poured out on you and you be destroyed for eternity(hell)?
*Want you make sure today that you will be saved from God's wrath?
*By asking Jesus to come into your heart and life as Lord and Savior and to forgive you of all your sin's, is the only way to escape God's wrath and hell for eternity.