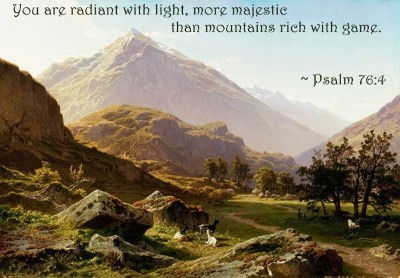 The Majesty of God in Judgement
*"Majesty of God", refers to God's sovereign power, authority, greatness, and dignity.
*"Salem", was another name for Jerusalem.
*Psalm 76, refers to the confrontation between Jerusalem and Sennacherib and Jerusalem's deliverance(II Kings 19:32-35).
*Psalm 76, contains a description of deliverance and a call to all the people to submit to God's sovereignty.
*Psalm 76, shows that God is willing to use His great power to deliver His people.
*Psalm 76, includes eschatological overtones in verses 8-12, when God will defeat His enemies and judge them. "Eschatological", means relating to the death, judgement, and the final destiny of the soul.
God's nearness to His people in verses 1-3

God's deliverance of His people in verses 4-9

God's majesty to His people in verses 10-12
God is known and is made known by His works of creation, by His providence, by His judgement's, and by His Word, the Bible. "Salem", was the ancient name of Jerusalem. God destroyed Jerusalem's enemies.
God is more powerful than the enemy. The Assyrian army came up against Jerusalem with blasphemy against God. God destroyed the Assyrian army.
The attacks against God and His people, are turned into praise to God when God destroys the enemy. What was meant for evil, God turned it around for His good.
*We are to vow and make spiritual sacrifices of praise and thanksgiving unto God.
*God will destroy the proud leader's, who rebel against Him.
*God is not impressed with one's riches, fame, or position.