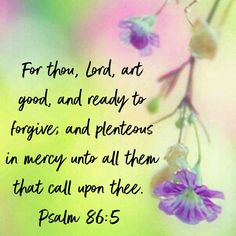 Prayer for Mercy with Meditation on the Excellencies of the Lord
*Psalm 86, is one of the five Psalms called Prayers. The other four are Psalms 17, 90, 102, 142.
*There is a brief mention of David's enemies in verse 14, but no specifics are given.
*As a prayer, Psalm 86 has the elements associated with prayer:
Prayer in verses 1-7, 11, 14-17

Praise in verses 8-10

Thanksgiving in verses 12-13
*In Psalm 86, David expresses his distress and overcomes his distress through praise and worship.
*David said this prayer in Psalm 86 out loud. This was not silent prayer. The word "voice" lets us know this.
David pictures God leaning over to hear him. This captures the humbleness of David and that God reigns over him. It also shows God's attention given to His people. "Poor and needy", refers to David being poor in his spirit. David was experiencing persecution. David was a man of prayer. David believed in prayer. David saying, "I am holy", shows that David had not broken his covenant with God. In other words, David had not sinned. David was "holy" in that he faithfully followed God's law(God's Word), not in the sense that he was perfect. David made a decision to faithfully follow God; therefore, David's heart was holy and he does not have the desire to sin. David knows that it is God, who helps him to stay holy. David is asking God to protect him from his enemies and to help him live by his spirit, which is committed to God.
David fellowshipped with God in prayer daily. David asked for his soul to be preserved according to the covenant that he had with God. David knew by experience that God was good and that God showed him mercy and forgiveness. David again asked God to hear him. David had troubles before and after he became king. In his troubles, David cried out to God. David knew that God would hear him and deliver him. David had total faith in God.
"gods", refers to idols. David knew that God was the only ONE TRUE GOD. David knew that one day every nation would bow on their knee's before God(prophecy here). David was considered a prophet. David prays that he would have an undivided heart, that is totally dedicated to God. David's heart was totally committed to God. David is determined to glorify God forever. David knew that it was God who had delivered him.
David's enemies, denied God. David's enemies were violent and wicked. David's enemies were used by satan to try and destroy David. David was asking God to do something that would show all his enemies that he belonged to God. David knows his help comes from God. David wants all his enemies to see and know that his help came from God.
*Our help comes from the Lord God!!!