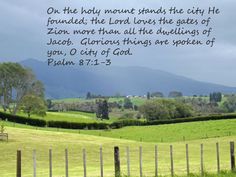 The Glories of the City of God
*Written by the son's of Korah.
*Psalm 87, speaks prophetically of the time to come, when Zion will be the center of the Kingdom of God, that will be fully set up when Jesus Christ returns to the earth. Zion(Jerusalem), is God's elect city. Psalm 87, describes God's love for Jerusalem and exalts the city of Jerusalem as the center of where God's Kingdom will be set up, when Jesus Christ returns to earth.
The Lord's love for Zion in verses 1-3

The Lord's favor of Israel in verses 4-6

Exaltation of Jerusalem in verse 7
This is the Holy mountain of Zion in Jerusalem. "Zion" is symbolic of the church. Mount Zion is a holy place. "Gates of Zion", is a poetic description of Jerusalem, used by the Old Testament writer's when special spiritual and religious significance was being attached to the city. God loved other cities in Israel, but God chose the city of Jerusalem to be the center of His worship. The "gates", represent the access of the worshipper's into the city of Jerusalem where they could come into a special worshipping relationship with God. The temple was built in Jerusalem. "O city of God", refers to Jerusalem. The people of Israel came from near and far to worship in the temple in Jerusalem.
"Rahab", was another name for Egypt. This "Rahab", was not Rahab the harlot. Egypt, Babylon, Philista, Tyre, and Ethiopia, were enemies of Israel. They worshipped all thypes of false gods. These countries denied the God of Israel. The psalmist is saying that there will come a day when the scales will fall from their eyes, and they will know and worship the One True God(prophecy). Verse 5, could be speaking of the birth of Jesus Christ. Verse 6, is not talking about the Lambs book of life, but it is talking about the writing of the house of Israel, among the living in Jerusalem.
"Springs", is a metaphor for the source of joyful blessings. This is describing a beautiful procession of singing and playing music on instruments as they marched into Jerusalem(Zion), the Holy City.