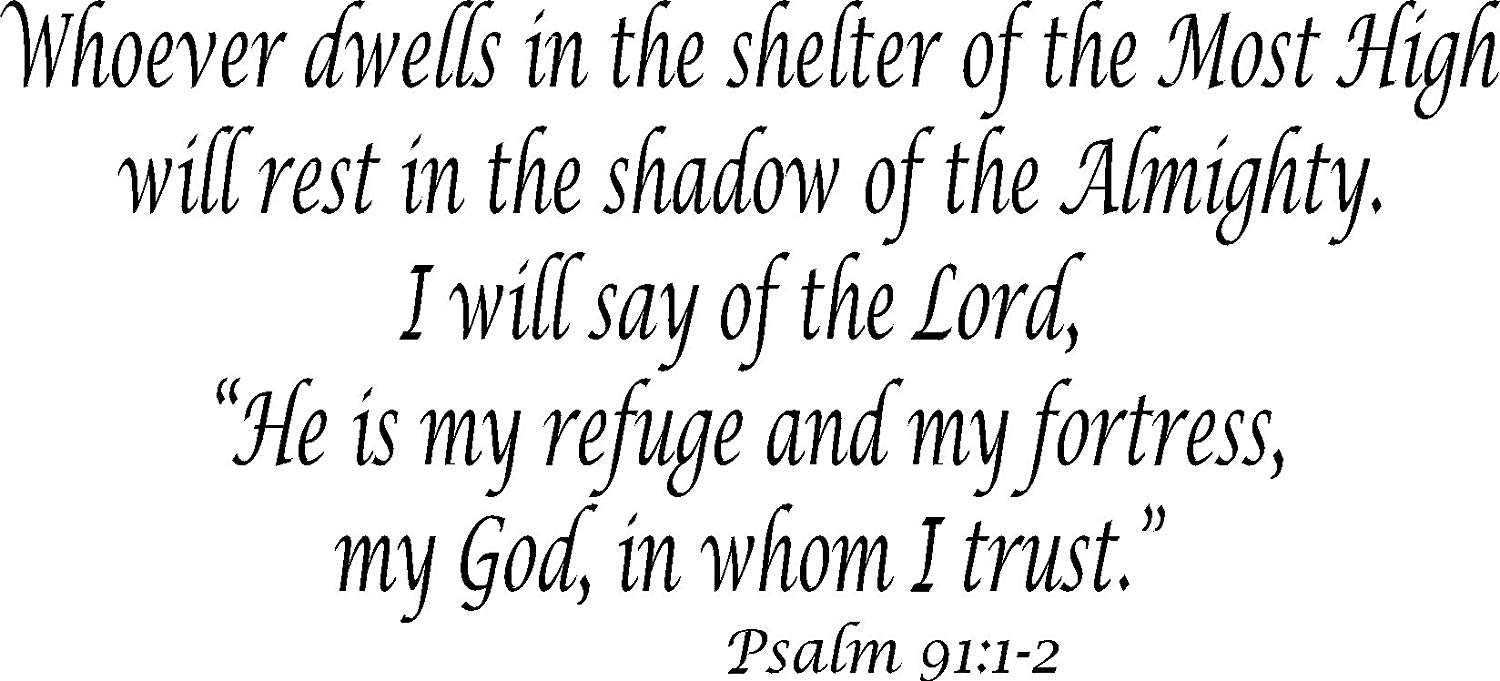 Safety of Abiding in the Presence of God
*No author's name is mentioned. We could call Psalm 91 an orphan Psalm, because no author's name is mentioned.
*Psalm 91, is a Psalm of security.
*Psalm 91, describes God's on going sovereign protection of His people from the ever-present dangers and terrors.
The Lord's protection in verses 1-13

The Lord's pledge in verses 14-16
Verses 1-13:
"Secret place of the Most High", is an intimate place of divine protection. The use of "Most High" for God emphasizes that no threat can ever overpower God. "The Shadow of the Almighty", is where we can find care and protection. This brings great hope and promise to those who "truly" believe and live for God. "Dwells", means to continually dwell at ALL times. "He is my refuge", means God is our safe place to flee to in times of trouble. God never fails. What we need to do is to learn to stay in "our refuge", which is God at all times. "My fortress", refers to God being our strong fortress that can never be destroyed. Here again we need to learn to stay in our "fortress-God". We should never let anything destroy our trust in God. "The snare of the fowler", represents any plot or scheme that satan tries to bring against the true born again believer to endanger their life and their relationship with God. "Perilous pestilence", refers two the attacks from satan that come at the true born again believer. These attacks can come in any form. The key here is to stay in God's presence. God will cover the true believer's with love and care. God's protection cover's the true believer's. "God's truth", which is His Word, will shield us from "all false gospel's". God's Word is our shield and buckler. God's Word can never be destroyed. As long as we stay in God's presence, we should not be afraid of what comes our way. Fear is not of God. Fear is from satan. Whatever comes at a true believer can not destroy them. The only way it can destroy a believer, is that they get out of God's Will(protection) for their life. As long as we remain in God's Will(protection), for our lives, we will see the enemy destroyed. Because the true believer has made the Lord their refuge/dwelling place. Nothing shall destroy them. God has encamped His angels around the true believer's to protect and help them. "Tread upon the Lion, and the adder, the young lion, and the dragon", mean's God will protect His true righteous one's from ALL deadly attacks.
God is the speaker here. God describes the blessing He gives to those who know and love Him. "Call upon Me", means calling out to God in prayer in faith/believing that He will hear us and answer us. Whatever the amount of years on this earth, there will be an eternal life in heaven for the true believer's.
*Prayer is found throughout the Psalms. Prayer should also be found throughout every day life of a true believer. Take your concerns, your praise, your needs, and the needs of others in prayer to the Lord. God cares for for you. Be willing "to stand in the gap" in prayer for others.
*Pray God's Word. Claim God's Word(His Promises).