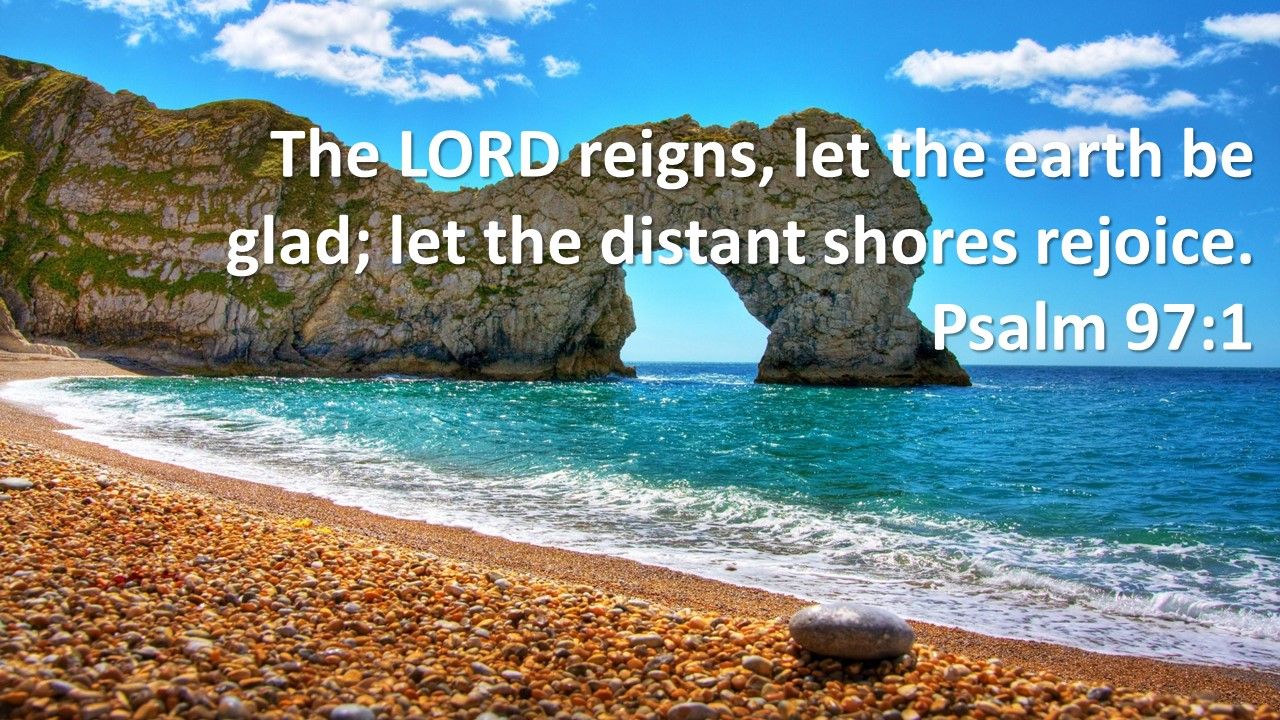 A Song of Praise to the Sovereign Lord
*No author's name is mentioned. We could call Psalm 97 an orphan Psalm.
*The psalmist, though recognizing the Lord's universal reign, anticipates the time when the Lord will judge ALL people. The description of the Lord's presence may in fact be the basis of some New Testament passages that describe the coming of the Lord Jesus to earth (Matthew 24; Revelation 19) (prophecy).
The Lord's Kingship in verses 1-6

Effect on the wicked in verse 7

Effect on the true righteous one's in verses 8-12
Verses 1-6:
"The Lord reigns", is the watch word of Psalm 97. It is the foundation of God's Kingdom and will be the fulfillment when Jesus Christ comes to earth to fully set up the Kingdom of God. Jesus Christ will rule and reign from the City of Jerusalem. We draw comfort in knowing that He will rule and reign over all the earth. "Multitudes of isles", refers to all the continents and islands. The brightness of His glory displays His Righteousness and His Judgement's. "The darkness", conceals His Glory from mankind, lest mankind be consumed. "Burns up His enemies", the Lord Jesus will utterly destroy His enemies(Zech 14:12). "Fire" could represent His Word. "His lightnings" could be a reference to the Lord Jesus coming to rule the world(Matthew 24:26-30). This is speaking from a spiritual stand point. "The mountains melt", could mean that actual mountains will fade away or that problems will ALL disappear at the Lord Jesus Presence. ALL people will see and know who He is. Yes even those who reject Him will see and know that it is Jesus; however, it will be too late.
"ALL you gods(idols)", will not be allowed into His Kingdom. Those who worshipped these false gods(idols) will be put to shame. They will realize that they were wrong; however, it will be too late.
Those who are truly born again christian's, will rejoice and be glad, because the Lord Jesus is glorified and that He will rule and reign forever!!! The Lord Jesus will be exalted above ALL. "He preserves the souls of His saints", means the Lord will deliver us from our enemies. He will totally destroy our enemies. "Light is sown", describes the ultimate triumph of righteousness and the righteous. The righteous rejoice and give thanks to teh Lord Jesus, because He has destroyed the enemy forever!!!
*We are the winner's, because of the Lord Jesus Christ!!!
*satan is the looser, because the Lord Jesus Christ has destroyed him forever!!!