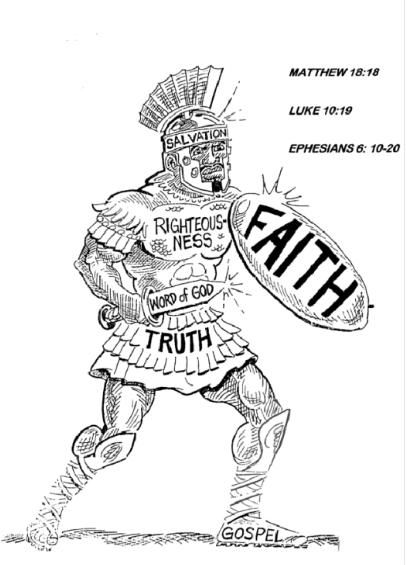 Standing firm is a command that is repeated many times throughout the Bible.
*Ephesians 6:10-18:
Paul tells us to put on the "WHOLE ARMOR OF GOD". We must wear the "WHOLE
ARMOR OF GOD" at ALL times.
1. Belt of Truth, verse 14:
Truth keeps us from giving in to the world's belief's(sin). The Word of God is the Truth.
2. Breastplate of Righteousness, verse 14:
Righteousness is being everything God instructs us in His Word to be. Righteousness is living a "Holy Life" that is in line with God's Word.
3. Shod(shoes) your feet with the preparation of the Gospel of Peace, verse 15:
The Gospel of Peace is being right with God.
4. Shield of Faith, verse 16:
Faith is being sure that God will keep His promises. Faith in God protects us when we are tempted to doubt and sin.
5. Helmet of Salvation, verse 17:
We put on the Helmet of Salvation by believing that Jesus Christ died for our sins and He rose again and is in Heaven.
6. Sword of the Spirit, verse 17:
The Sword of the Spirit is the Word of God, the Bible. God's Word is our weapon.
7. Prayer, verse 18:
We are to always pray with ALL perseverance and supplication and be watchful. Just as the Word of God is our weapon to do spiritual war, so is prayer our weapon to do spiritual war.
*We are in a spiritual battle. Therefore, we as true born again Christian's need to have the "Full Armor of God" on at ALL times. Having on the "Full Armor of God", helps us in "STANDING FIRM". I encourage each of us to study the Armor of God, and to make sure that we have it on at ALL times.