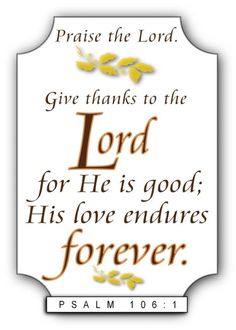 Israel's Sin of Faithlessness and God's Justice
*No author's name is mentioned. We could call Psalm 106 an orphan Psalm.
*Psalm 106, is a Psalm of National lament(prayer).
*Psalm 106, traces the history of Israel's faithlessness(sin) and God's Justice to Israel's captivity(probably was the Babylonian captivity).
*The people of Israel adapted to the other people's idol worship and ways of living. They sinned, which caused them to remove themselves out of God's protection.
*"Baal", was the title for any of the Canaanites idol god's.
*"Peor", was probably one of the shrines where the false idol god's were worshipped.
*God had Mercy on Israel, because of the faithful one's who went to God on their behalf. Instead of wiping Israel out, God let them be taken into captivity by their enemy.
Call to praise in verses 1-5

Confession of Israel's sin in verses 6-46

Prayer in verses 47-48



*Because of our sin's, God could have wiped us out. But because of His Mercy, God gives us another chance to repent.
*Sin causes us to walk out of God's protection. Therefore, God is not obligated to protect us.
*Sin separates one from God. Sin joins one with satan.
*Remember, God is a Merciful God, but He is also a just God.