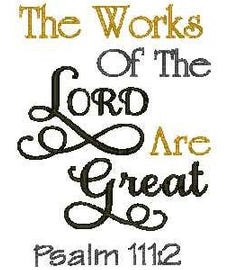 Praise to God for His Faithfulness and Justice
*No author's name is given. We could call Psalm 111 an orphan Psalm.
*Psalm 111-118, are called "Hallel". "Hallel", is a Hebrew word that means "Praise". "Hallel", is a Jewish prayer; a verbatim recitation from Psalms 111-118, which is recited by observant Jews on Jewish holidays as an act of Praise and thanksgiving.
*The following are some of the Jewish holidays that "Hallel" is read aloud:
Passover

Feast of Weeks

Festival of Tabernacles

Hanukkah

Rosh Chodesh(the beginning of the new month)

Yom Ha'atzmaut(Israel's independence day)

Yom Yerushalayim(Day commemorating reunification of Jerusalem in 1967)
*Psalm 111, exalts the works of God.
*The occasion for Psalm 111 is not known.
Word of Praise to the Lord in verse 1

Causes for Praise to the Lord in verses 2-9

Word of Wisdom in verse 10
Verse 1:
The Hebrew word "Hallelujah" is translated as "Praise the Lord". "Hallelujah", means to bestow honor to the Lord and to boast of the Lord. "To boast of the Lord", means to praise Him. "With my whole heart", implies the inner person, our spiritual man. True praise begins with a pure heart.
To study the works of the Lord, we need to read and study His Word, the Bible. We are to remember the works of the Lord. "Fear" in verse 5, means reverence/respect. The Lord will take care of His people, who reverence/respect Him. His Word will last forever.
"Fear", means reverence/respect. To reverence the Lord is the beginning of wisdom. Without reverence for the Lord, we can not have a right relationship with Lord. Having "reverence" for the Lord is a sign of one maturing in their spiritual relationship with the Lord.