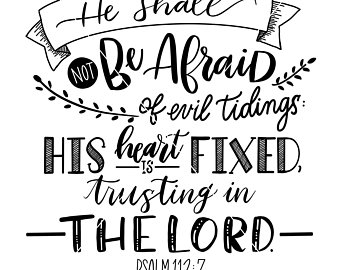 The Blessed State of Righteousness
*No author's name is mentioned. We could call Psalm 112 an orphan Psalm.
*Psalm 111-118, are called "Hallel". "Hallel" is a Hebrew word that means "Praise".
*The contrast between the righteous and the wicked mark Psalm 112 as a wisdom Psalm.
The blessings of obedience in verses 1-9

The wicked's(sinner's) destruction in verse 10
Verses 1-9:
"Blessed"(Hebrew word 'esher), means happy. "Who fears the Lord", means to show the Lord reverence/respect. "Commandments", is God's Word. "Riches" are not just earthly treasures, but are the treasures laid up in heaven. "Riches" are spiritual blessings from the Lord. The Lord will be with us and will take care of us. "A good man(mankind)", is one who is ready to do the Lord's will, without self gain. "Discretion", means the quality of having or showing discernment or good judgement; the quality of being discreet; being cautious. The true righteous one's of God, will not be shaken. They are unmovable. The true righteous one's heart will be so committed to the Lord God, that they place everything in the Lord's hands. The true righteous one's are confident that all will be well, because their heart's are stedfast in the Lord God. Christian's, who are the true righteous one's, should never be moved by circumstances around them. If the true born again christian is established in the Lord, the problems of this world will not cause them to loose faith, to turn away from the Lord, or to backslide. True born again christian's will give to true charities. "Horn" is an Old Testament symbol for prominence and standing. "His horn will be exalted", means the Lord God will honor those who are true follower's of His.
The wicked(sinner's, lukewarm christian's, hypocrites), live a worthless existence without the Lord. The wicked will see the blessings that God showers on the believer's and will be sorry and they will be envious; however, it will be too late. The wrath of God will fall on the wicked. God gives the wicked time to repent, but they do not repent. They are doomed for hell.
*The blessings of God are reserved for the true born again christian's. They will reign with Jesus in heaven forever.
*The wicked will awake to an eternity of torment in hell forever.
*Want you repent today and give your heart to Jesus before it's too late?