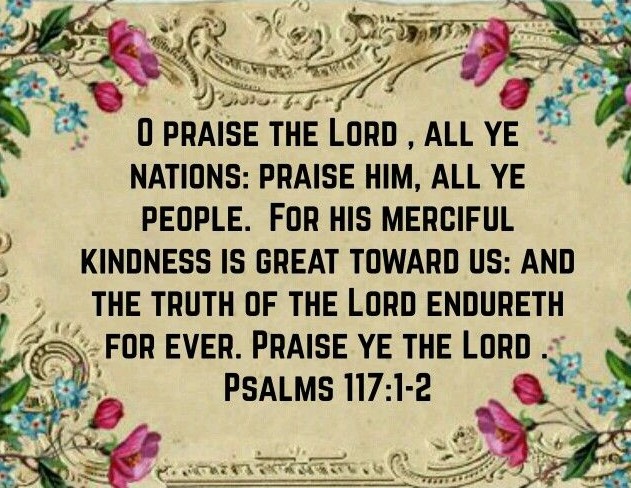 Let All Peoples Praise the Lord
*No author's name is mentioned. We could call Psalm 117 an orphan Psalm.
*Psalm 117, is a "Hallel" Psalm. "Hallel" is Hebrew for praise.
*

"Gentile", refers to anyone who was not Jewish.
*Psalm 117, is known as the shortest chapter in the bible.
*Psalm 117, is one of four passages that Paul quotes from the Old Testament in Romans 15, to prove that God desires for gentiles(those who were not Jewish) to be saved.
*Psalm 117, contains the three elements of a "Hymn of Praise":
A call to praise in verse 1

A cause for praise in verse 2a

Conclusion in verse 2b
Verse 1:
The psalmist is encouraging everyone to praise the Lord. Psalm 117, is prophetic. Psalm 117, is looking unto a time when all nations and people would worship the Lord. Remember, that God only accepts praise from a pure, saved, clean heart.
The reasons for such praise is because of ALL that God has done and will continue to do.