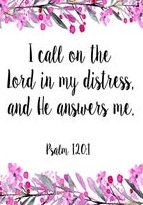 A Prayer for Deliverance from Lying Lips
*No author's name is given. We could call Psalm 120 an orphan Psalm.
*Psalm 120, is part of a group of Psalms called "Songs of Ascents"(Psalm 120-134). These Psalms are probably those sung by the Israelite's ascending the hills to Jerusalem for yearly feasts. The psalmist was brought into great distress by those around him, who told lies.
Psalmist prayer in verses 1-2

Punishment for those who lied in verses 3-4

Psalmist lament in verses 5-7
Verses 1-2:
"Distress", means extreme anxiety, sorrow, or pain. The psalmist distress was caused by those that lied. "And He heard me", refers to the Lord answering him and delivering him. The psalmist was asking God to deliver him from those that told lies on him and deceived him.
The psalmist was talking to God about the punishment of those who lied. "Sharp arrows", is another way of saying those that lie will reap what they sow. "Broom tree", is a thorny brushwood that is preferred for kindling because it produces a long hot fire. So lying lips will themselves be burned.
Mesech and Kedar were pagan people, who created a hostile environment for the psalmist. The psalmist lived among these people; however, he remained faithful to God and to God's Word. The psalmist advocated for peace; however, the people wanted to go to war. They hated the psalmist for this and became his enemies.
*When we stand for God and His Word, the enemy will try to attack us. That is why it is so important that we have on the
"WHOLE ARMOR OF GOD" AT ALL TIMES.