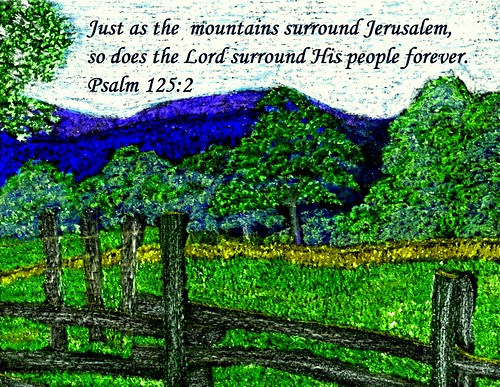 The Lord the Strength of His People
*No author's name is mentioned. We could call Psalm 125 an orphan Psalm. Psalm 125 is apart of a group of Psalms called "Songs of Ascent". The Israelite pilgrims sung these songs as they ascended the hills to Jerusalem for yearly feast.
*Security in the Lord is the emphasis of Psalm 125.
*The circumstances of Psalm 125 are not known.
*In Psalm 125, the psalmist compares those who continually walk the "crooked way", which are sinful ways, to those who walk in "God's ways".
Security of God's people in verses 1-3

Blessings of God's people in verse 4

Warning of judgement in verse 5
Verses 1-3:
Mount Zion is symbolic of the security and the church. Mount Zion represents Jerusalem and permanence. "Permanence", means unmovable, unchangeable, lasting, and remaining. Those that truly believe in the Lord can not be moved. "Abides", means to remain stable; fixed; permanent. The Lord surrounds His people. The Lord keeps His people. The Lord is always with His people. "His people", are those who trust totally in the Lord. "Sceptor of wickedness", the enemy shall not defeat God's people. The only way God's people can be defeated, is if they give in to sin/sinful ways.
For God to bless and take care of us, we have to be totally(100%) faithful to Him and our hearts belong to Him 100%. God's blessings are for those who are truly born again christian's and are sold out to Him 100%. The blessings of God are not for those who compromise God's Word.
"Crooked ways", means sinful ways. "Worker's of iniquity", are sinner's. "Crooked ways", go against everything God's Word stands for. Those who walk "crooked ways", not only includes sinner's, but it includes those who profess to be a christian, but live carnal lives. These people profess God in name only, but they do not know Him in their hearts. In other words, they have no personal relationship with God. "Lead them away", refers to eternal judgement. Eternal judgement is hell. "Peace", comes from knowing God. One day God will reward those
who are totally dedicated to Him. They will receive the peace/joy of being with Him in heaven for eternity.