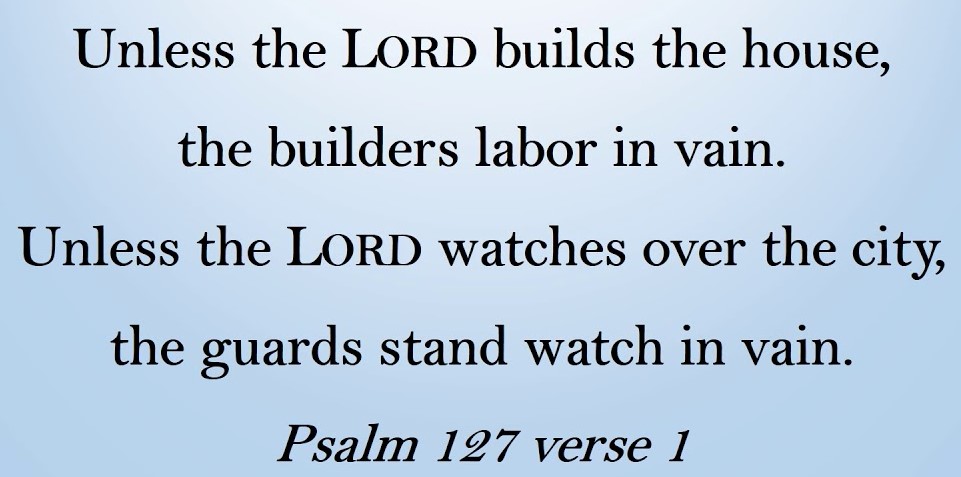 The Need of Relying on God
*Psalm 127 is a part of a group of Psalms called "Songs of Ascent"(Psalms 120-134).
*Psalm 127 and Psalm 72, are the only Psalms written by Solomon.
*The occasion of Psalm 127 is not known.
*The meaning of Psalm 127 is that all human efforts are in vain, unless they have God's blessings.
*It is possible to accomplish all the things that Psalm 127 mentions; however, it is not possible to accomplish them purposefully and with eternal value without God's blessings. God is to be the center of our lives.
God's sovereignty in everyday life in verses 1-2

God's sovereignty in family life in verses 3-5
Verses 1-2:
Solomon begins Psalm 127 with the most important truth in establishing a home: "Unless the Lord guilds the house, they labor in vain". Until the Lord is made the Head of the home(family), attempts to establish a strong family, will end in frustration. Verse 2, is proof that we are not to get so consumed with spending all our time working to gain earthly treasures, to the point that we neglect our bodies, our families, and most importantly God. God has designed the human body to get sleep. Sleep is very important to the human body. Remember, our bodies are the temple's of the Lord. If we neglect our bodies, we are harming the temple of the Lord. Children are blessings from God. We are to raise our children to know who God is. We are to live a godly life before our children.
*God designed and created the family. Therefore, God should be the head of the family.