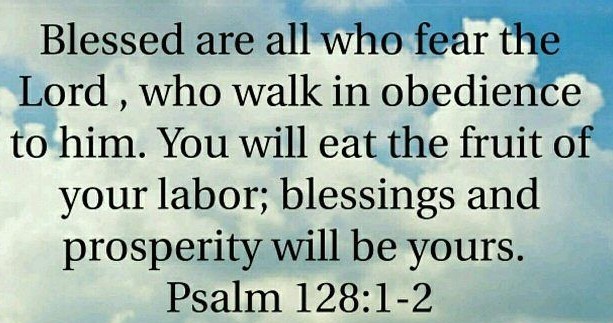 The Blessings of Those Who Show the Lord Reverence/Respect
*No author's name is mentioned. We could call Psalm 128 an orphan Psalm. Psalm 128 is a part of a group of Psalms called "Songs of Ascent"(Psalm 120-134).
*The message of Psalm 128, is that a person is never truly happy until they are truly living a "Holy Life" before a Holy God.
Blessings of one who fears the Lord in verses 1-4.

A prayer for blessings in the present and in the future in verses 5-6
Verses 1-4:
"Fear", means to show reverence and respect to the Lord God. "Contentment", means a state of happiness and satisfaction. "Contentment", is one of the Lord's greatest blessings to those who are faithful to Him. "Who walks in His ways", refers to one who is totally obedient to the Will of God for their life. The "fear", which is reverence/respect for God, is the beginning of wisdom. Even though we are the blessed of God, we still must work. God will bless the work of our hands, if we are walking in His Ways. "You shall be happy", comes when we know that we are doing what is pleasing to God. A man who finds a good wife, has found a good thing. A good christian wife, will complete her husband and their home will be blessed. A man who raises his family in the "fear"(reverence/respect) of the Lord, will be blessed.
Once again, one who "fears"(reverence/respect) the Lord shall be blessed.
*Remember, "fear" means to show reverence/respect to the Lord.
*Remember, "contentment" means a state of happiness and satisfaction.