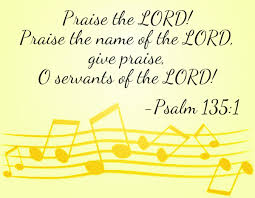 The Greatness of the Lord and the Vanity of Idols
*No author's name is mentioned. We could call Psalm 135 an orphan Psalm.
*Psalm 135, is a song of praise.
Call to praise in verses 1-4

God is the only true GOD in verses 5-7

God is Israel's deliverer in verses 8-14

Idol's are worthless and lifeless in verses 15-18

Ending praise in verses 19-21
Verses 1-4:
"Servants...stand...in the courts", are referring to the priests and temple worker's. They were to praise the Lord God for His greatness, grace, mercy, holiness, justice, power, His Word, faithfulness, and blessings. The priests and temple worker's, were to lead the people in praise unto God. All God's people are to praise Him.
God was above all the false god's. God had all the power. The false god's had no power and were not real. God is sovereign. God is the creator; therefore, He rules over all.
God delivered the people of Israel from Egypt. God defeated Israel's enemies. God gave the land of Canaan(promised land) to Israel. The Lord God is everlasting. God will defend His people against the wicked one/enemies.
Idol's, which are false god's, are useless. The people that worship idol's(false god's), are just like their idol's, they are useless. People who worship false god's, are sinner's and are bound for hell.
Once again, the psalmist is saying that all God's people are to praise Him. God inhabits the praises of His people.