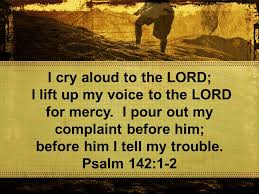 A Prayer for Relief from Persecution
*Psalm 142, is a prayer when David hid out in the cave from King Saul. King Saul and his men persued David to kill him.
*David's situation seemed hopeless; however, David knew that God would deliver him.
David cried out to the Lord in verses 1-2

David's circumstances in verses 3-4

David's confidence in God delivering him in verses 5-7
Verses 1-2:
"Supplication", is praying to the Lord in a humble manner. "Voices", refers to David's prayer not being whispered or even a silent prayer. Instead, "voices" refers to David praying out loud to the Lord. David's complaint was his circumstances.
While David felt overwhelmed and abandoned, he took comfort in knowing that God knew his circumstances and that God would keep him from the enemy.
David realized that God was his refuge and would take care of him. David also realized that God would deliver him. "Prison", refers to the cave in which David and his men hid in. David could not praise the Lord openly while hiding in the cave. However, David had made up his mind that after God had delivered him, he would praise God openly before the people telling them what God had done for him. David knew that God had delivered him in the past, and that God would deliver him now. David had total confidence in God to deliver him.