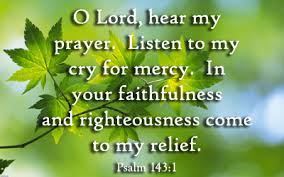 David's Prayer for Guidance and Deliverance
*David is once again being attacked by his enemies. David knows to turn to God. The circumstances of Psalm 143 are not known.
David calls out to God in verses 1-2

David's circumstances in verses 3-6

David's plea to God in verses 7-12
Verses 1-2:
David fervently cries out to God. David knew that God was faithful and would hear him. David knew that without God, he was unrighteous. David knew that it was God's righteousness that would deliver him.
David's enemies were trying to destroy him. David felt depressed because his enemies had overwhelmed him. David remembered what God had done in the past and he was comforted. David's faith was being restored. David lifting his hands to God was a sign of him surrendering everything to God.
With everything in him, David cries out to God. In verses 8-10, David asks God for guidance. In verses 11-12, David asks God to deliver him. David declares his loyalty to God.