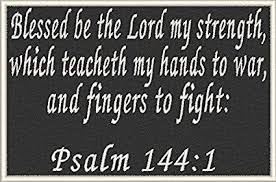 A Song to
the Lord Who
Preserves and Blesses
His People
*Psalm 144, is a combination of parts from Psalms 8, 18, 33, and 102-104.
*Psalm 144, could be described as the prayer of a king for victory and blessing.
*Circumstances of Psalm 144, are not known. However, it could have been written on the day that God delivered David from his enemies and from the hand of King Saul(II Samuel 22:1-18).
David's trust in God in verses 1-2

Mankind's insignificance in verses 3-4

David's prayer for deliverance from his enemies in verses 5-8, 11

David's praise to God for delivering him in verses 9-10

David's prayer for the blessings of God to be on the people of Israel in verses 12-15
Verses 1-2:
David trusted in God, because God was his solid foundation that was unshakable. David knew that his strength came from God. David knew that God was his loving kindness, his fortress, his high tower(strong hold), his deliverer, his shield, and his refuge. These show the character of God. David knew that it was God, that used him to defeat his enemies.
David knew that compared to God, mankind was nothing.
David prayed for God to come and destroy his enemies. The enemies of David were the enemies of God.
David's "new song" was a song of victory celebration. David's praises were a happy song of redemption(saving). David's happiness of God's deliverance is expressed in his singing of praise unto God. David knew that his deliverance came from God.
David prayed for God to bless the future of the people of Israel.