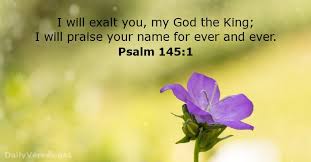 The Lord is Worthy of Praise
*In Psalm 145, the focus is on Praise unto the Lord God.
*Psalm 145, covers nearly every aspect of verbal praise: extol, bless, praise, declare, meditation, speak, utter, sing, and make known.
*Psalm 145, is the last Psalm that David wrote.
*In Psalm 145, David praises God for who He is, what He had done, and what He has promised.
Commitment to praise God in verses 1-2

Cause for Praise unto God in verses 3-20

Renewal of the call to praise God in verse 21
Verses 1-2:
David recognized that God was sovereign by saying "my God, O King". David was determined to praise God. David called God his King, because he knew that God ruled over everything. By calling God King, David was recognizing God's power and authority. David did not put any "conditions" on his praising God. No matter what, David was determined in his heart to praise God.
The reasons David praised the Lord God:
God's greatness

God's mighty acts/works

God's glorious splendor

God's goodness

God's righteousness

God's graciousness

God's compassion

God's slow to anger

God's mercy

God's glory of His kingdom

God's power

God's majesty

God is everlasting

God's nearness

God provides

God hears
Verse 21:
David would praise the Lord God as long as he lived.