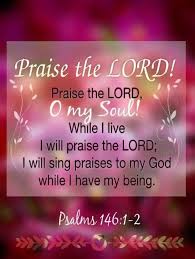 The Blessedness of Those Who Trust in God
*No author's name is mentioned. We could call Psalm 146 an orphan Psalm.
*"Blessedness", means the state of being blessed; happiness; heavenly joy; the favor of God.
*Psalm 146, begins with "Praise the Lord" and ends with "Praise the Lord".
*Psalm 146, is full of praise unto the Lord.
*The occasion of Psalm 146 is not known.
*Psalm 146, is similiar to Psalm 113 and Psalm 145.
Psalmist commitment to praise in verses 1-2

Psalmist warns against misplaces trust in verses 3-4

Blessed hope in verses 5-10
Verses 1-2:
The psalmist was committed to praising the Lord. "Praise the Lord O, my soul", refers to the psalmist praising the Lord with everything in his being. "While I live", refers to the psalmist praising the lord every single day while he is alive. The psalmist also sung his praises to the Lord.
The psalmist warned the people to not put their total trust in mankind. "In whom there is no help", refers to mankind not being able to "save" the people.
The psalmist knew that those who trusted in the Lord were happy. It is better for mankind to put total trust in the Lord. The people of God are happy because He takes care of them. The Lord will meet the needs of His people. The Lord will reign forever. There is no end to the Lord's reign. "Lion", is symbolic of the church. The church are those who are totally sold out to the Lord.
*We are to praise the Lord at ALL times!!!