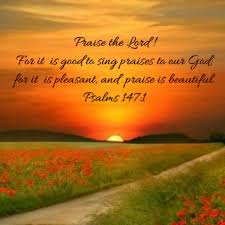 *No author's name is mentioned. We could call Psalm 147 an orphan Psalm.
*Psalm 147, is a Psalm of "communal praise". "Communal praise", means all people come together and praise the Lord.
Praise the Lord, because He delivers the oppressed in verses 1-6

Praise the Lord, because He provides for His faithful people in verses 7-11

Praise the Lord, because He protects Israel in verses 12-20
Verses 1-6:
God inhabits the praises of His people. True praises unto the Lord come from the heart. "Builds up Jerusalem", refers to God securing Jerusalem. "Gathereth the outcasts of Israel", refers to the Israelite's being exiled from Jerusalem. This is also prophetic of the Jew's returning to Israel in the last days(Isaiah 56:8). "Healeth the broken in heart", refers to those who grieve over their sins as well as those who are afflicted by adversities. "Bindeth up their wounds", refers to the Lord taking care of His people. God is all powerful. "His understanding is infinite", means that God's understanding has no limits and no boundaries. God will take care of the meek and He will destroy the wicked.
We must give our best in our praise and worship of the Lord. We must have a humble heart when we praise and worship the Lord. "Fear Him", means having respect and reverence for the Lord.
God will take care of those who have put their faith and hope in Him. "Zion", is symbolic of Jerusalem and the church. "Church", is the body of believer's and not the building. True born again christian's are the body of believer's. "Christian", means Christ-like. God chose the nation of Israel. God has chosen us.
*Psalm 147, is about the praise of God, who is far above human understanding. Through our praise and worship, we show our love toward God. Do not neglect to praise and worship God each and every day.