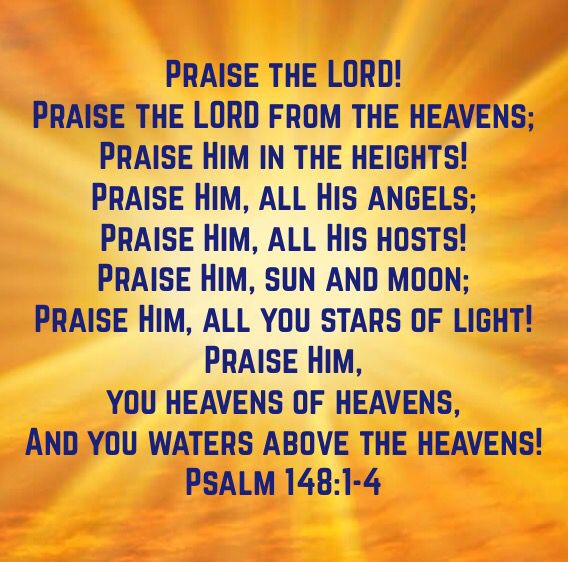 All Creation Praises the Lord
*No author's name is mentioned. We could call Psalm 148 an orphan Psalm.
*Psalm 148, could be called a Psalm of universal praise, because all creation praises the Lord. The universe praises God, because He spoke it into being(148:5).
*God did not need an evolving series of events or cosmic explosions to create the "heavens" and the "earth", and all their inhabitants. God spoke and they were created. In return every thing is to praise Him.
*In Psalm 148, the psalmist gives two calls to praise, each ending with a cause for praise.
*The psalmist calls and causes for praise to the Lord God
The first call and cause for praise in verses 1-6:
a) Heavenly beings and heavenly bodies are called to praise the Lord God in verses
1-4
b) God's creative power is the cause for praise in verses 5-6
The second call and cause for praise in verses 7-14:
a) Earthly beings and earthly substances are called to praise the Lord God in
verses 7-12
b) The glory of the Lord and His people are the causes for praise in verses 13-14
*"Horn", symbolizes God's strength. We should not lift ourselves up, God lifts us up. The praise that we lift up to God, should be continually. Our praise to God should never end. Praise to the Lord God should forever be on our lips and in our hearts. Our praise should always come from our hearts.