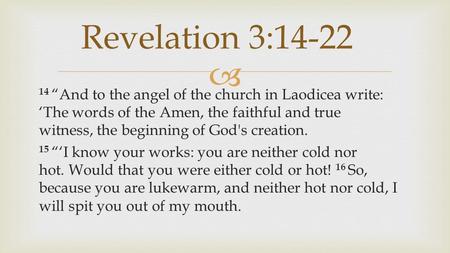 *Paul became concerned with the church in Laodicea, because of false teachers etc... that where in the church(Colossian 2:1).
*Laodicean, means lukewarm.
*The Laodicean church was a christian community established in the ancient city of Laodicea in the Roman providence of Asia minor. Laodicea was one of the early centers of christianity.
*Laodicea was an ancient metropolis area. Today the area is known as Turkey. The Laodicean church is the last church of Revelation. The message to the Laodicean church is one of judgement with a call to repentance. The Laodicean church was lukewarm. The church straddled the fence and compromised. The church was allowing "worldly ways" into the church. The church did not take a firm stand against sin. The church was allowing anything and everything into the church.
*Domitian, a Roman emperor, who declared himself a god, demanded that all worship him. The church in Laodicea could not buy or sell if they did not participate in emperor worship. Those who refused to worship the emperor were killed. In order to keep their earthly possessions and wealth, the Laodicean church christian's compromised their faith in Jesus(Revelation 3:14-22).
*The Laodicean church became lukewarm. The Laodicean church had become an apostate church, a self satisfying church, and a church full of formality. "Apostate", means a person who renounces and abandons a religious belief or principle. The Loadicean church represents the church in the last days prior to the rapture(calling away). The Laodicean church represents the apostate church of today. The "works" of the Laodicean church were spiritually worthless. Their works were spiritually dead. In other words they did "works" for self glorification and not to the glory of the Lord. The Laodicean church were more into formality of having "programs" to get people to come to church(growing their numbers) than witnessing and reaching out to the lost and discipling them. The leaders of the Laodicean church thrived on getting recognition. The gospel message was not presented in their programs. The Laodicean church became blind to its spiritual needs.
In Revelation 3:19-22, Jesus gives the Laodicean church a chance to repent.
*All of the wrong(sin) that went on in the Laodicean church was due to the church bringing in "emperor" worship in order to keep their earthly businesses and wealth.
*Once compromise seeps into the church, it begins to corrupt the whole church. Church is not the building, it is the people.
*Compromise causes spiritual death to happen in a church body.