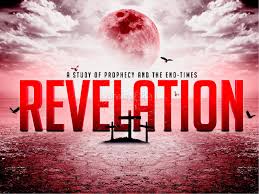 *Written by John. John also wrote the book of John and the books of 1&2&3 John.
*"Revelation", means an uncovering, an unveiling, or a disclosure.
*Revelation, uncovers, unveils, or discloses spiritual truths.
*God is the author of this Revelation given to John. John wrote what God revealed to him through the leading of the Holy Spirit,
*Revelation, reveals Jesus Christ in His glory, the truths about Jesus, and His final victory, that the rest of scripture alludes to. It becomes clearly visible through this Revelation about Jesus Christ.
*John was the brother of James. John was one of the youngest disciples of Jesus. John was the one who took care of Mary Jesus was crucified. John wrote in the gospel of John that Jesus was in fact God, who took on the flesh of man and dwelt among us. John knew Jesus better than any of the other disciples.
*Many bible scholars think that John had been fasting for 7 days when he received the inspiration from God to write the book of Revelation.
*Revelation, is the only book in the bible that contains a promise to everyone that reads it and all that hear it will be abundantly blessed. The early church read the book of Revelation every time they met together. There is a curse spoken at the end of Revelation to anyone who tampers with the contents of the bible.
*Some of the scripture in Revelation was for Johns time and future events pertaining to the end times. The number 7, which means spiritually complete, is found all through out Revelation.
*John was banished to the isle of Patmos, off the western coast of Asia minor(known as Turkey today), because of his boldness in speaking of Jesus Christ. John loved Jesus more than he feared punishment from the authorities. John had been left on Patmos to die. The autorities thought that John could do nothing to promote Jesus from Patmos. The authorities were wrong. It was while on Patmos that God had John to write Revelation. John witness today is stronger than it was when he was alive.
*There must be an understanding of the symbols that are seen through out Revelation. It is very clear that in Revelation, Jesus is speaking.
*The things in Revelation have been happening, are currently happening, and will happen in the very near future.
*Revelation is written in symbols so that people can not understand them with their minds. It is through our faith that the Holy Spirit helps us to understand the things in Revelation. The fulfillment of Jesus takes place in Revelation.
*What was shown to John in this vision, is shown to believer's in Johns written account of Revelation.
*Revelation was written in a way that mankind could not figure out the day nor the hour of Jesus return.