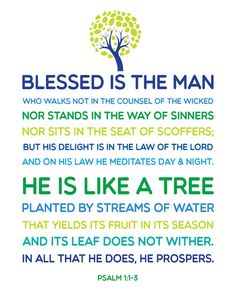 "The Way of th
e
Righteous and the End
of the Ungodly"
Verses
1-2:

Do not take ungodly advice. Stay away from activities that lead to sin. Instead, enjoy God's Ways and set your heart on God's Word.
Verse 1: Blessed, in the word that not only begins this Psalm, but in it lies the essence of what is promised to those who read and meditate on all the Psalms. The influence one allows others to have on them determines to a large extent one's spiritual destiny. "Walk/Stand/Sit", seems to suggest a progression of influence that results from initially turning one's attention in the wrong direction.
Verse 2: Study and think deeply about the Bible regularly. Delight in the scriptures. The scriptures will teach you who God is and guide you in the decisions of life. Is the child of God can pray without ceasing and thank God without ceasing, then they can meditate on God's Word without ceasing.
Verse 3: "Like a tree planted", is a fitting symbol of blessing in the Old Testament. "Planted", literally means "transplanted". Trees do not planted themselves, neither do sinful people transport themselves into God's kingdom. Salvation is God's marvelous work of grace. The tree planted by the water, receives nourishment from the water of the river. Supplies of Grace drawn from the Word of God, the Bible, are what sustain the people of God.
Verse 4: Chaff, is empty and has no weighty substance about it. It is easily blown by the winds of adversity.
Verse 5: The ungodly will not judge the righteous nor sit with the righteous ones.
Verse 6: The Lord knows the way of the righteous and will reward them. The way of the ungodly leads to perishing-hell.